Hobe Sound, Florida, has a most unusual beach named Blowing Rocks Preserve, which is a small 73 acre area with rocks instead of the usual Florida sand. When the Atlantic Ocean wind drives the water through the holes in the limestone, the spray sometimes flies as high as 50 feet. This is a beachcombers dream because there are thousands of gorgeous seashells that can be gathered to take home and treasure. There is a quarter mile that is not rocky, and here approximately 500 turtle nests are dug every year by leatherback, green and loggerhead turtles.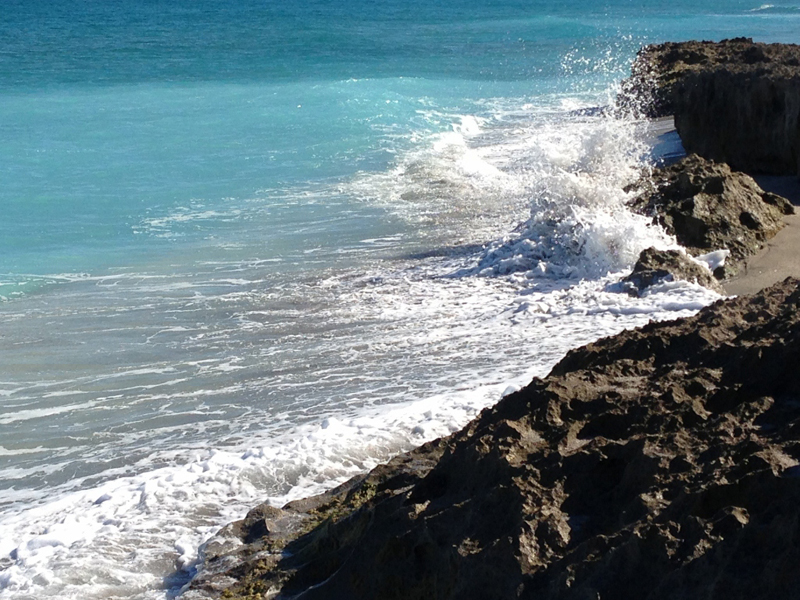 Residents from nearby Jupiter Island gave this parcel to the Nature Conservancy back in 1969, and since then volunteers have restored 42 acres by weeding out invasive trees and planting sabal palms, palmettos, mangroves and other native ones instead. The preserve's nursery's seeds were responsible for many of these trees.
The Hobe Sound National Wildlife Refuge is halfway between Port St. Lucie and West Palm Beach on Florida's Treasure Coast . It is situated on a barrier island down the dead-end North Beach Road, so it is a surprise when you find over five miles of unspoiled shore lined with seashells and vegetation, a wooden observation platform on top of a dune, and a beach filled with turtle nests. If you go by bicycle, entrance is free; there is a charge of $5.00 per person if you are in a vehicle. You can walk to St. Lucie River Inlet.
The Hobe Sound Nature Center is located at the National Wildlife Refuge right on the Intercoastal. It is a non-profit private organization that cooperates with the U.S. Fish and Wildlife Service and is dedicated to the education and awareness of the environment. There are 43 steps down to its lovely beach. There are trails to walk on and warm waters for the kids to play in while the parents can sit on the beach, enjoy the sun and watch the boats go by. A popular annual event is the "sea turtle walk" from the end of May to mid-July.
The Coral Cove Park is a must for surfers and for those who like to view spectacular rock formations. You must watch out for sharks, however, because there are many in the nearby Jupiter Inlet.