Untamed, unspoiled, undiscovered—these words describe Nunavut (which means "our land" in the native Inuktitut language). Located on vast tundra centered in northeastern Canada, this Territory with roughly 32,000 people is the largest of all the territories and provinces in Canada. Resting on its arctic coastline is its capital, Iqaluit. Nunavut is an inherently meditative locale— with magnificent views of cotton grass, ice floes and wildlife–which is precisely why nature lovers and adventure seekers are drawn to this natural paradise.
Untamed-Wildlife
With countless wildlife spread across Cape Dorset, Pond Inlet, and Repulse Bay– Nunavut offers a true wilderness experience. The ancient hunting grounds are teeming with big game including caribou, musk ox, and bears.
Nunavut is a sport fisher's dream. Arctic char, Arctic grayling, Northern pike and lake trout fill the pristine waters ready to wrestle with any angler who dares to cast a line. Millions of birds flock to Nunavut, making it the ultimate birding hotspot. There are 11 Bird Sanctuaries with over 100 species of birds, including snowy owls, sand cranes, jaegers and plovers that feed along the floe edge near Baffin Island.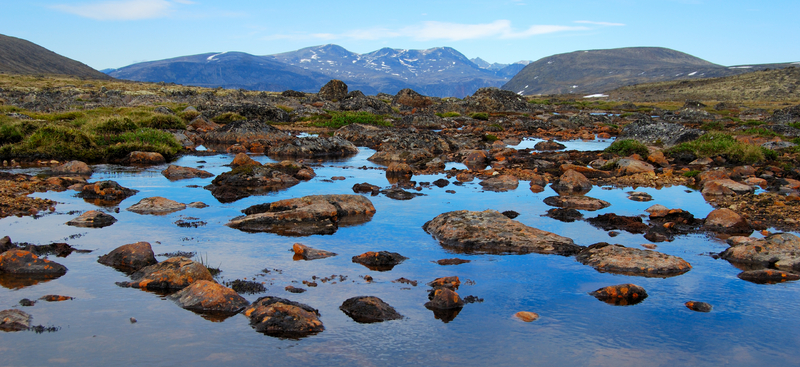 Unspoiled-Land and Water
The Inuit natives have a great deal of respect for the land and its waters, and actively strive to preserve this harmonious balance for future generations. Since there are no roads, guests arrive by boat, dogsled or snowmobile. Other modes of transportation include navigating on steady currents in a canoe, kayak or raft to view shorelines and fiords. Visitors can also experience the great outdoors mountain biking, hiking or ATV excursions.
Nunavut's parks whisper "katjaqnaaq," which means I am content in this beautiful and special place. I have found peace. There are four national parks and thirteen Territorial parks. Each park is unique in landscape and purpose: wilderness parks for hiking and rafting; community parks for bird watching, fishing and camping; and historic parks, filled with cultural treasures.
Undiscovered-Arts and Culture
One of the most enjoyable experiences in Nunavut is the cultural encounter. The culture permeates throughout the Territory because the Inuit people blend into the landscape. At specific times throughout the year, communities from all over Nunavut gather to celebrate their heritage. This celebration includes, drum dancing, throat singing and games. One of the most honored traditions is the weeklong Toonik Tyme festival, which takes place in the spring. Each community in Nunavut specializes in producing original art: cloth, jewelry, ceramic mugs and stone sculptures. The Alianait Arts festival highlights various talents. The rich bounty of the land provides authentic ingredients for exotic cuisine. Seal is a delicacy eaten raw, while caribou, char, and musk ox is prepared by stewing, baking, frying and grilling.
Hire a guide to enjoy the full Nunavut experience. And take plenty of film. With an average of 20 hours of sunlight and no trees to block your view, you will want to remember this poetic beauty of nature before uttering 'angirraliqtunga' (I am going home).