Burgos, in central northern Spain has always been a crossroads between east and west. Today its unique position makes it a connecting point for numerous train and bus routes, with an international airport nearby. In the past, however, its location made it a battleground for opposing forces.
When the Moors swept into Spain from north Africa at the end of the first millennium, Burgos became a contested prize, not only between Christian and Muslim forces but also among independent forces seeking to establish their own fiefdoms. Later, Spanish and French forces struggled for control and after the matter was settled in Spain's favor, the armies of Castile and Aragon clashed over it. It's no surprise that the great national hero El Cid, was born here or that General Franco made it the base of his rebel government during the Spanish Civil War of the late 1930s.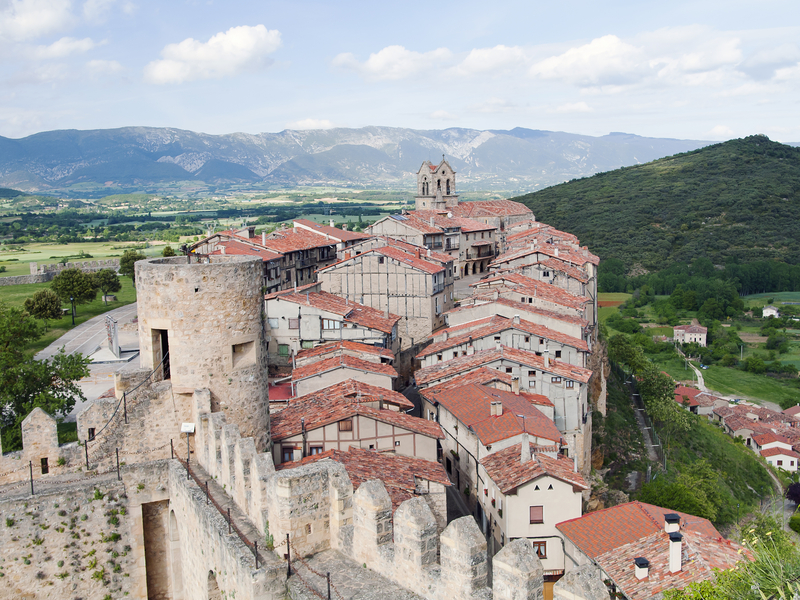 Virtually all of Burgos' attractions are buildings of historical or architectural significance. While this is not a city that will charm children, adults will enjoy the abundance of beautifully preserved structures. Wandering among them, visitors can easily imagine the impact Gothic style must have had on a world that had never before seen buildings more than a few stories high.
Burgos' chief attraction is the Cathedral at the Plaza Del Rey San Fernando. Begun in 1221, the Cathedral was in use by 1230, a remarkable achievement for a project of such size. The façade of the church, with its arches, circular central window and square towers, was inspired by the French Gothic cathedrals of Paris. The steep spires crowning the towers reflect a more German style and were not added until the 15th century.
The historic center of the city surrounding the Cathedral, within the original city walls, is also well-preserved and interesting to explore. A short walk from the Cathedral is the Casa del Cordon on the Plaza de la Libertad, a small 15th century palace. Other top Burgos attractions include the square and statue dedicated to El Cid, the walls and castles of the old city and, beyond the historic center, the monasteries of Miraflores and Las Huelgas. Don't miss the new Museum of Human Evolution, the world's first museum its kind.
Located on a high, relatively dry plateau that's famous for its wheat production, some of Burgos' greatest charms are its verdant parks and several wide, tree-lined promenades. Summers are warm and humid but not searing, while winter brings temperatures below freezing and, usually, snow.