Newcastle,  is a small town on the Northern Ireland coast that is known for its beauty and the excellent golfing in the area. It lies at the base of Slieve Donard, which is part of the Morne Mountains. Visitors are drawn to the area to enjoy the picturesque beauty of the mountains as well as the beautiful sandy beach. The population of Newcastle is just under 7,500 people.
Not much is known about the early history of Newcastle. Most of the early history simply exists in the form of folktales that were passed down orally through the generations. The town derives its name from a castle that was built in the late 16th century by Felix Magennis. The town was not very populated until the 17th century, when it began to be used heavily as a port.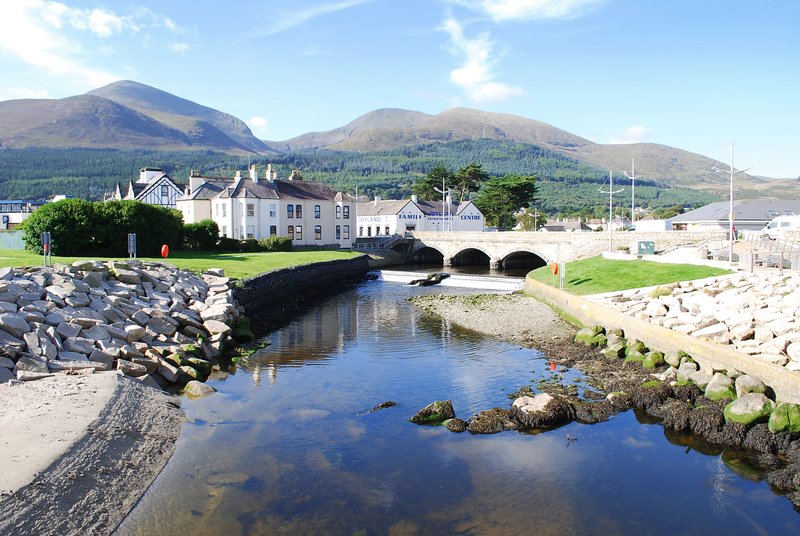 One of the most famous events to happen in the history of Newcastle was a terrible tragedy. On January 13, 1843, 12 fishing boats were lost at sea when a heavy storm sprang up. 76 fishermen drowned in the tragedy, leaving behind a few dozen widows and more than 100 fatherless children.
A more cheerful event in the town's history occurred in 1910, when Harry Ferguson flew one of the first airplane flights in Ireland along the beach outside Newcastle.
These days, Newcastle is still a town that relies on fishing, but it is more known for the charms it offers tourists. There are many outdoor attractions that are a big draw for visitors. Tourists come to enjoy the beautiful sandy beach that is particularly enjoyable during the summer.
Visitors are also able to enjoy hiking up the largest mountain in all of Ireland, Slieve Donard. This mountain is part of the Morne Mountains, which are said to be the mountains where Saint Patrick banished the snakes from Ireland. There is a stream, known as Saint Patrick's Stream, that runs down from the mountain. In the stream is a rock that legend says contains the handprint of Saint Patrick from an occasion when he bent down to drink from the stream.
Royal County Down Golf Club is the most popular tourist attraction in Newcastle. Many golf experts consider it to be one of the top ten courses in the world. The club has two 18-hole links courses that are of championship-caliber. The club has been home to many of the top golf competitions, including the Senior British Open and the Walker Cup.