The historical city of Verona, Italy is famed as the setting for the classic Shakespearean love story, Romeo and Juliet, but Verona has many other delights waiting to be discovered.
Nestled between the cities of Milan and Venice in the region of Veneto, Verona is one of the most visited places in Italy. Enthusiasts of European history will be enchanted with the many UNESCO World Heritage sites that chronicle the city's fascinating and tumultuous history. Throughout the last millennia, Verona has been the possession of several nations. Included among them are the original Celtic settlers, followed by the Romans who claimed the city as a colony in 89 AD, the nation of Austria, and the Visigoths, under the rule of King Theodoric the Great, also famed for defeating Attila the Hun. Today, Verona is the capital of the province of Verona.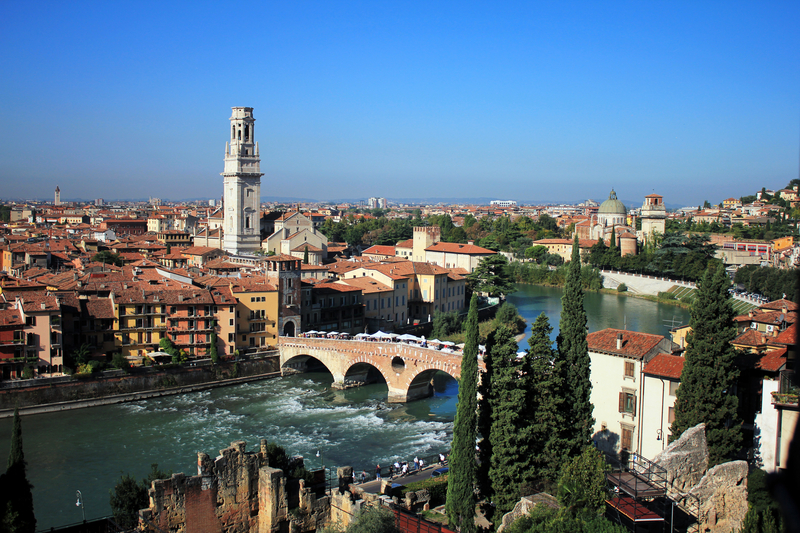 When visiting Verona, there are a number of noteworthy sites that merit exploring, such as the Lamberti Tower. Construction of this majestic tower began in the 12th century. Over the years, it has gone through numerous additions, with a completed height of just under 276 feet. The view from this lofty vantage point offers visitors a fantastic view that overlooks the entire city. Lamberti Tower is located off the Piazza delle Erbe, in the heart of Verona's historic city center.
After enjoying the stunning view from atop Lamberti Tower, a short stroll to the Piazza delle Erbe offers a great combination of shopping and sightseeing. The city center of Verona is nestled in the midst of many beautiful medieval buildings and majestic palaces. In the center of the Piazza is a beautiful Roman fountain, and surrounding the Piazza are souvenir shops and cafes that offer a delightful place to shop for mementos or relax and enjoy a cappuccino.
The most visited site in Verona is Juliet's House, which contains what is believed to be the actual balcony of Romeo and Juliet fame. The house, located off Via Capello, is a Gothic style home built in the 13th century.
The best known site in Verona is the Arena, an amphitheater dating back to the 1st century BC. Today, the Arena is used for much gentler pursuits than the gladiatorial matches held during the era of its construction. The Arena is the second largest amphitheater in the world, seating up to 25,000 people, and is the site of the annual summer-long opera festival.