It is well known that Pisa's main attraction is its Leaning Tower, but a visit to this Tuscan city should not overlook the hidden gem, the National Museum of San Matteo, Pisa, Italy, or St. Matthew.
Located in a scenic setting on the banks of the River Arno, the museum is housed in the Benedictine Convent of San Matteo. Recently renovated, this beautiful structure is well worth a look just for itself. The museum's collections showcase art works by leading Pisan and Tuscan masters dating between the 12th and 18th centuries such as stunning paintings, sculptures, ceramics and illuminated manuscripts. Because it contains a wealth of valuable and historic objects, the National Museum of San Matteo is included among Europe's most important medieval art museums.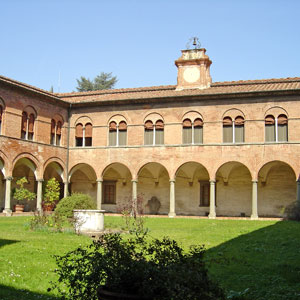 Among the museum's outstanding display of paintings is the group of 12th and 13th century painted crosses. Collected from Pisa's oldest churches, these paintings are the works of fine artists such as Giunta di Capitino, Maestro di San Martino and Berlinghiero Berlinghieri. Also included in this section are panel paintings by Giovanni di Nicola, Simone Martini and Benozzo Gozzoli. Paintings from the 14th and 15th centuries feature works by masters like Buonamico Buffalmacco, Francesco di Traino, Gentile da Fabriano, Spinello Aretino and others. A couple of notable works on display in this collection include a 15th century painting of Jesus Christ and an illustration of St. Ursula saving the city of Pisa from flooding.
The museum's sculpture section features 15th century works that were collected from the city's churches for better preservation. Examples of these beautiful pieces include masterpieces like Tino di Camaino's "Nativity," a polyptych by Simone Martini and the "Breastfeeding Madonna," or the "Madonna del Latte," by the artist brothers Nino and
Andrea Pisano. Additionally, there are a few impressive wooden pieces here by Agostino di Giovanni and Francesco di Valdambrino.
A collection of medieval ceramics contains the famous bust-relic of St. Lussorio by Donatello as well as glazed terracotta earthenware from the school of Della Robbia. Also of worthy attention are the ceramic basins that formerly adorned the outside walls of Pisa's historic churches.
A number of illuminated manuscripts dating between the 12th and 14th centuries can also be viewed in the museum. The shining piece in this collection is the Bibbia di Calci, an illustrated Bible dating back to 1168.