The beautiful region of Thessaly, in central Greece, borders the Aegean Sea and is a showcase of majestic mountains, modern cities, traditional villages, verdant valleys and ancient ruins. The Pinios River flows through the region which includes the Sporades Islands. Thessaly's four majpr districts are Kardista, Larissa, Magnisia and Trikalo.
KARDISTA
Kardista is noted for the alluringl Plastira Lake, the Smokovo Spa and the mountainous Argithea region where visitors can enjoy distinctive folk songs/dances. The capital city, also named Kardista, holds noteworthy neoclassical buildings, a popular town market and archaeological Pausilypon Park.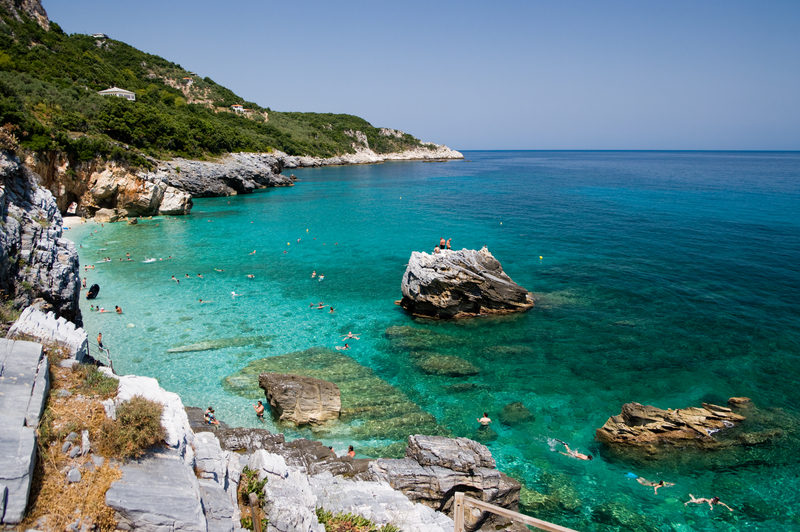 LARISSA
Larissa is Thessaly's capital and largest city. Its charm is enhanced by pedestrian areas and walking paths along the main streets. Although Larissa dates back thousands of years, it is a modern city with top-notch accommodations, restaurants and other facilities, making it the ideal base for exploring the district's surrounding area, including Tyrnaves, famous producer of Ouzo, and the village of Ambelakia, home of Greece's first handicraft association.
MAGNISIA
Magnisia is a magical blend of mountains, Mycenaen ruins and the sea. The capital and port city of Velos has a lively waterfront lined with cafes/bars, pastry stands, restaurants and shops. It is also home to an Archaeological Museum and Municipal Gallery featuring the work of modern Greek artists. Pelos lies at the base of Pelion Peninsula which boasts mountain villages, lovely coastal towns, and some of Greece's best beaches. The blue-green waters of the Aegean Sea make Pelion a summer paradise but it is also a popular skiing center in winter.
TRIKALO
The capital city of Trikalo, on the Litheos River, was built on the ruins of the ancient city of Trikka. Visitors can enjoy the amenities of a modern city as well as the "old quarters" teeming with traditional "tavernas" and old-style shops.
The nearby town of Kalabala is the gateway to Meteora where Byzantine monasteries are perched atop high vertical cliffs. Visitors are welcome at six of these famous monasteries which house exquisite frescoes, wooden iconostases and rare religious icons.
SPORADES ISLANDS
Four of the 11 islands are inhabited: Alonissos, Skiathos, Skopelos and Skyros. They feature dense vegetation, mountains, unique Venetian houses, and beaches kissed by crystal-clear emerald waters. Skiathos, the most cosmopolitan and touristy island, offers top-notch hotels and an exciting nightlife. The other islands are popular with people looking for a quieter, relaxing vacation in a beautiful natural environment.