Mild temperatures, natural features and historical sites make Lesvos Greece a must-see location. Birthplace to many famous Greeks, the island has become legendary due to numerous mentions in Greek mythology. Lesvos has also emerged as a premier travel destination for lesbian tourists. Greek is the official language of the area, but many residents also speak English, Spanish, French, Italian or German. As of 2002, euros became the official currency of Lesvos.
Lesbos, also known as Lesvos, is the third largest island in Greece. The land was privately owned until 580 Before Common Era (BCE). Average temperatures range from 50 to 79 degrees Fahrenheit. 90,000 people reside on the island, with many living in the capital city of Mytilene.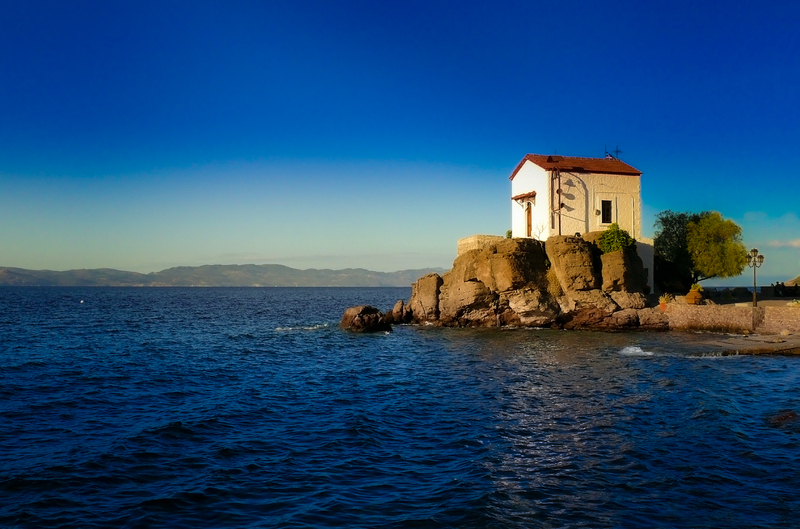 The island has extremely diversified flora, or plant life. Hikers gaze upon miles of olive or fruit trees covering 40 percent of the land. A visit to the Western section of the island reveals the second largest petrified Sequoia forest in the world. A series of wetlands make Lesbos a bird watching paradise. Watchers highly recommend the Kalloni and Potamia areas.
Local hot springs are perfect for travelers seeking a more therapeutic visit. A dip in the springs at Thermi, Eftalou of Mithymna or Polichnitos is said to alleviate many physical discomforts. With average temperatures between 76 and 91 degrees Celsius (168.8- 195.9 Fahrenheit), waters at Polichnitos are the hottest in Europe. Local residents claim the springs help with everything from kidney problems to arthritis.
According to the World Monuments Fund, twelve churches in Lesbos are included among the 100 most endangered sites in the world. Tourism, exposure to the elements and age are destroying many unique and culturally relevant sites. Moni Perivoli, a stop for many religious pilgrims, features wall paintings depicting the complete life of Christ.
Lesvos cuisine includes stuffed pumpkin flowers, filled with cheese and fried in hot oil. Liokafta, referred to as the fisherman's favorite dish, requires a great deal of patience. Fresh fish is seasoned, dried in the sun for up to two days and grilled. Local desserts include a light, flaky pastry called baklava and sugared almonds.
It is impossible not to mention a trip to Lesvos without mentioning its attraction to Lesbian couples. Sappho, a Greek poet who wrote detailed pieces about members of the same sex, was born on Lesvos. Her works have continued to attract large numbers of lesbian couples to the island.
>