In the heart of the dazzling Thessalian plain lies the historic capital city of Larissa. Larissa is the capital of the Thessaly region of Greece. It is surrounded by Pieria and Kozani on the northern border of Thessaly; and Fthiotida and Magnisia on the southern border. The Thessaly Region hosts a breathtaking scene of lakes, rivers, forests, plains and mountains. The mountain range Olympus, which houses the twelve ancient gods of Greek mythology, is located in the region as well as Mitikas, the highest peak in Greece.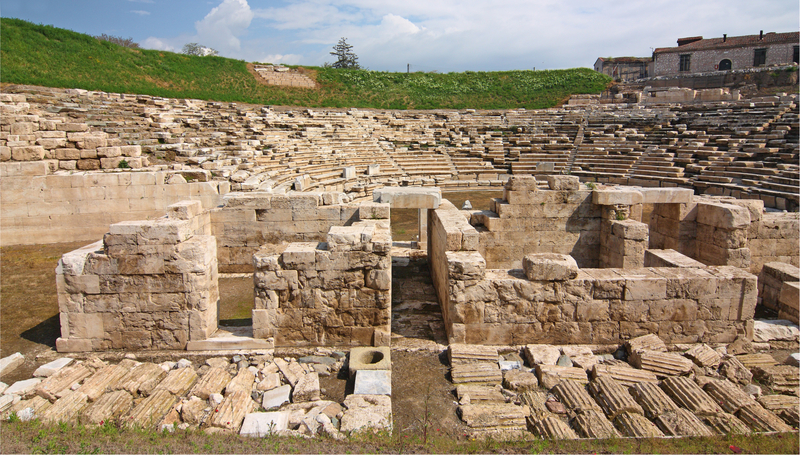 Larissa is the largest city in the region and has a long history with a very strong connection to Greek culture. The city has a variety of historical landmarks and attractions. One such landmark is The Church of Agios Achilios. There is a horse, a symbol, in front of the church. In the past, Larissa was well known for its horses. The horse symbolizes this. Nearby is the Alcazar Park. The park is a great place for a picnic or relaxing with the family. There are sculptures, statues, and fountains throughout the park as well as a playground and an amphitheater. Also in the vicinity is another popular landmark, an ancient Greek theater. In addition, there are also several museums and art galleries.
The Municipal Art Gallery of Larissa – G. I. Katsigras Museum was established in 1983. The museum houses a large collection of Greek paintings dating between the 19th and 20th centuries.
The Archaeological Museum of Larissa has an enormous assortment of artwork dating back to the Palaeolithic period and continuing to the Roman period. The museum has some very interesting exhibits including amazing tomb inscriptions written in Roman and Archaic, fascinating fossils dating back to the Palaeolithic period, primitive monuments, Roman and Hellenistic sculptures, evidence of Byzantine and Archaic structures, and variety of beautiful artifacts and artwork dating back to the Archaic epoch, the Neolithic epoch, and the Geometrical epoch.
The Folklore Historical Museum of Larissa was established in 1983. The museum has enormous displays of artwork and artifacts presenting the middle class society of the pre- industrial time period. In addition, there are also displays of religious artwork, photographs, documents, maps and engraved pieces of artwork.
For those looking for fun and relaxation, Larissa offers the natural beauty of the mountains and beaches. Tourists can find many All inclusive deals, visitors will enjoy hiking along one of the many trails through the mountains either on foot or by horseback. Tourists can also enjoy frolicking and swimming in the crystal clear water of any one of numerous beaches available including Agiokampos, Karitsa, Paliouria, Stomio, Rakpoptamos, and Velika.
Greece is in the temperate climate zone. With mild, wet winters and hot, dry summers, Larissa is an ideal vacation getaway.
>