The city of
Toulouse
is one of the largest urban areas of France, with a population over nearly half a million residents. It is located near the
Pyrenees Mountains
, and is situated almost directly in between the
Mediterranean
and the Atlantic. Situated on the banks of the Garonne River, Toulouse it is one of the ultimate tourism destinations in France. With a unique history, rich heritage and plenty of historical and cultural landmarks, there is something for everyone in this French city. Enjoy recreational activities, fine dining and shopping opportunities, along with unique architecture and a friendly local population. Here is a brief guide to the history, economy and modern attractions found in Toulouse, France.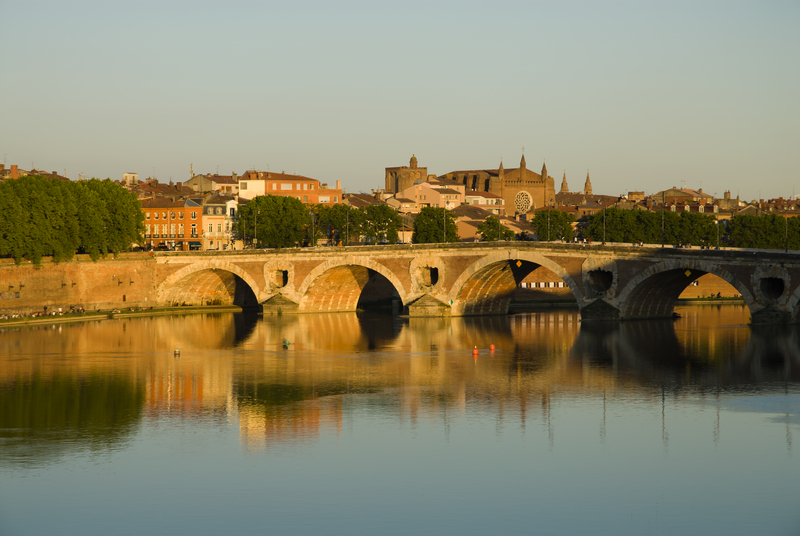 Although archeological remains point to the settlement of Toulouse in the 8th century BC, little is known of the city until centuries later, when the pre-Roman area was better known as Tolosa. From the 1st century BC to the 4th century AD, Romans occupied the area and created many lasting sites which can be toured to this day. Many different cultures and leaders called Toulouse home in the following centuries as it passed hands from people to people, and the culture was absorbed by each to make the complex and diverse city that Toulouse is today.
Today, much of the economy in Toulouse is focused on science and technology. In particular, the emphasis is on biotechnology, aeronautics, space and technology. The large Airbus company is headquartered in the area, and many of the assembly bases are also in Toulouse. Many of the resident are connected in some way to this industry of aeronautics and space technology. It is also important to remember that well over a quarter of the residents in Toulouse are university students, many of them also pursuing similar fields of study. It can easily be said that Toulouse is the technological capital, and certainly the aeronautics capital, of France.
Although tourism is certainly a large part of Toulouse, it is not the largest industry. However, many visitors prefer this to larger cities like Paris as it offers a more realistic glimpse at day to day life for the French people. Some of the most fascinating historical and cultural landmarks include places like the 11th century Basilique Saint Sernin, the UNESCO World Heritage Site of Canal du Mid and the famous Cité de l'Espace, or "space city" which is an aeronautical museum full of fascinating local history and technology.