Sitting about midway along the southern coast of England, and facing the eastern tip of the Isle of Wight, the city of Portsmouth, England is an important base and dry dock for the Royal Navy. The city is seated on the small island of Portsea, and the large harbor there has sheltered ships for centuries.
People lived in the area at least as early as the Roman invasion, and the Portsmouth region may have been the home base for supply ships for the occupying Roman army. The town itself was founded in the 1100s, though records of an earlier existence may have been destroyed during the Norman invasion. Because of its strategic placement, the city was an important port during the Hundred Years War, and the French attacked it on several occasions during that period. That same strategic importance led to aerial attacks from Germany during both World Wars, and unexploded bombs may still be found in the city during construction excavations.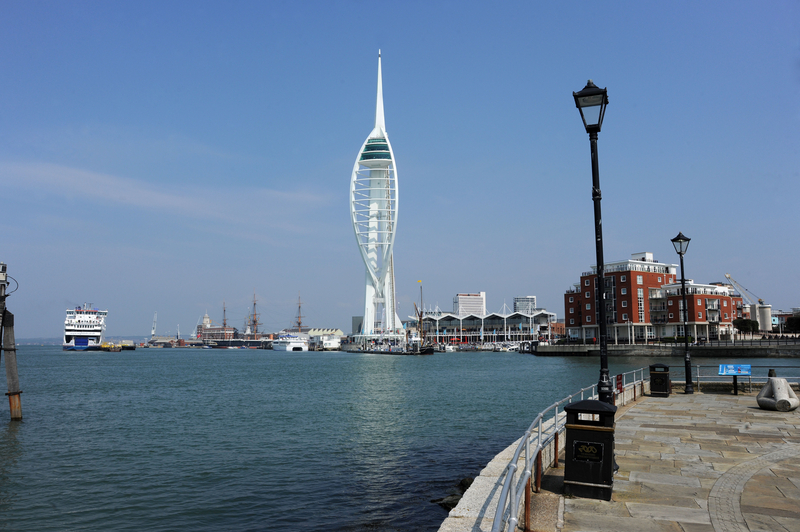 Several of the city's museums and attractions focus on its naval history. The Royal Naval Museum and the Royal Marines Museum are here at the Portsmouth Historic Dockyard, as well as the flagships of Lord Nelson and Henry VIII. Annual commemorations of the invasion of Normandy are held at and around the D-Day Museum. Southsea Castle and the forts built to protect the town and harbor are also important historic sites. One attraction that really sticks out is the Spinnaker Tower, which stands over the quays. There are passenger and car ferries out to the Isle of Wight, as well as a hovercraft service.
Not all of Portsmouth's history stems from the sea. Charles Dickens was born here, and his birthplace is a major tourist attraction. Sir Arthur Conan Doyle, H. G. Wells and Rudyard Kipling were also residents of Portsmouth at one point. The city has two cathedrals: an Anglican one dedicated to St. Thomas and a Roman Catholic cathedral dedicated to St. John the Evangelist.
Today Portsmouth is still an important port and naval base for the United Kingdom. The city has two major theatres and three major music venues, and the Bournemouth Symphony Orchestra plays there on an almost annual basis.