Dover, England is a major port town in the United Kingdom located across the English Channel from France in Kent, southeast England. The town takes its name from the river that flows through it, the River Dour. Just twenty-one miles from the Port of Calais in France, it is the home of the Dover-Calais Ferry. Surrounded by beautiful chalk white cliffs, the White Cliffs of Dover and the narrow Strait of Dover, this town has had a strategic place in history because of these two features. It functioned as a a protection point against invasion from the French during the Napoleanic Wars and against invasion from Germany during World War II. The Port of Dover and the tourism industry provide the town with many jobs. You can walk along the coast on cliffs on the beautiful North Downs Way walking trail.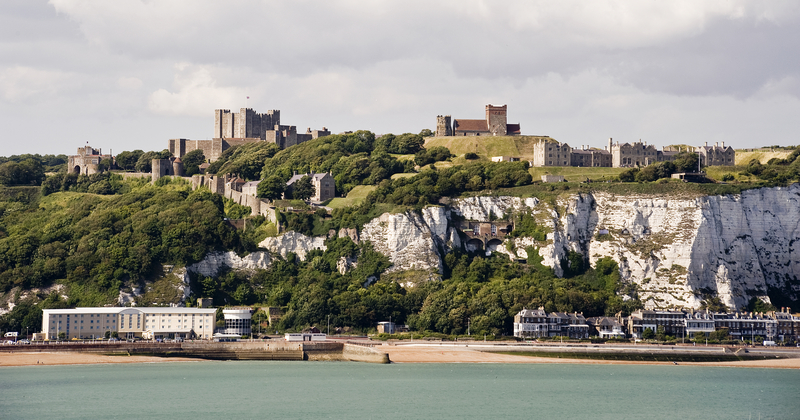 Dover has been inhabited at least since Roman times, as evidenced by the Roman lighthouse on the site of what is today Dover Castle. Dover Castle is a 2,000 year old castle with a Saxon church within the walls and many tunnels beneath it. There is also evidence of inhabitants from the Bronze Age. Visit the Bronze Age Boat, dated at 3,500 years, on display in the Dover Museum. The Roman Painted House leads the visitor through the ruins of a Roman villa with beautiful mosaic fragments.
Due to its location along the coast, Dover has a mild climate year-round with the light precipitation common to the rest of the United Kingdom. The main event which gets worldwide attention each year is the swimming of the English Channel. Sea fishing, primarily of Dover sole, is popular from the beach or the pier. The Straits of Dover, in the English Channel, is one of the busiest ports of the world. Many of the surrounding ancient villages have been incorporated into the town, making the whole of Dover a town with a population of approximately 40,000 inhabitants.
Other points of interest to visit are the Bierot Memorial – where Bierot landed the first cross-Channel flight in 1909, the Seafront Promenade, Saint Edmund's Chapel, and Kearsney Abbey. Visit the Grand Shaft, a triple staircase built during the time of the Napolenic Wars to facilitate the movement of troops between Townhall Street and Western Heights. The Battle of Britain Memorial commemorates Britain's soldiers, and also has a collection of vintage airplanes.