Antigua, a lush green covered Island in the eastern Caribbean surrounded by the clearest turquoise waters found lapping upon 365 white and pink soft sand beaches. Antigua was discovered by Christopher Columbus in 1493 on his second voyage to the New World and was given the name Antigua after a church in Spain; Antigua is the largest Island in the British Leewards. To the north are the neighboring Island countries of Nevis, St Kitts, St. Barts and St. Martin, to the south will find the islands of Montserrat and Guadeloupe.
Antigua with its rocky coast, many beaches, inlets and coves is mainly made up of low lying coral and limestone, providing for some spectacular beaches and safe harbors. Covering a mere 108 sq. miles Antigua ranges in length from 14 miles to 11 miles wide and a high point of 1319 feet on Boggy Peak.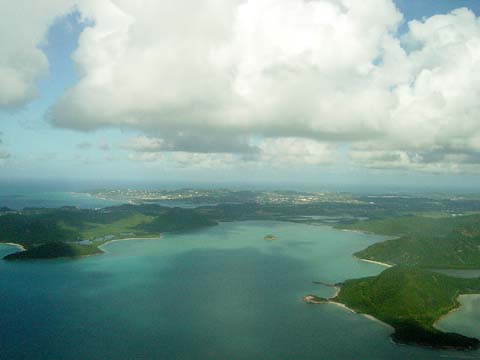 Antigua has an English speaking population of 61,000 people with the highest concentration (31,000 people) being found on the north western end of the Island in the capital of St. Johns.
Antigua was discovered in 1493 by Columbus, yet it was not till 1632 that Sir Christopher Codrington an Englishman made the first European settlement on the Island of Antigua. For many years to follow, Antigua became a important sugar colony to Great Britain and became a gateway to the Caribbean. In 1784 Admiral Horatio Nelson was sent to Antigua to secure England's presence on the island as well as in the Caribbean. Today, English Harbor and the Nelson's Dockyard National Park is a historic reminder of Britain's presence on the Island.
With 365 beaches, it will take a traveler a long time to get bored on the Island of Antigua. The islands Caribbean side offers the majority of the calm and secluded white and pink beaches. Turquoise clear waters offer some of the most spectacular opportunities for scuba diving and snorkeling. Surfers tend to head to Galley Bay and the beaches close to St. Johns on the North West corner of Antigua, a little more populated yet the wave breaks are ideal during the winter months. The beaches along the southwest coast will find quite and less developed areas. Names like Darkwood, Fryes Bay, and Doigs Beach will reward you with spectacular beaches worth the short trip from English Harbor. National Park located on the eastern end of the island at Half Moon Bay as well as Long Bay at the far eastern end of the island provide fabulous reef protected beaches.
Antigua's annual rainfall averages about 45 inches a year, with almost year round winds flowing off the cool Atlantic waters and north latitude of 17 degrees the island sees temperatures range from the mid 70's during the winter months to a high in the mid 80's during the summer