Guyana
, third smallest country on the continent of

South America

is situated on the northeast corner of South America, where the

Caribbean

joins South America. Guyana is bordered by

Venezuela

to the west,

Suriname

to the east and

Brazil

to the south.
Adventure travelers are drawn to Guyana for its mixture of beaches, immense rain forest, Savannah's and mountains. Guyana's geography can be divided into 4 distinct regions. Along the Atlantic coast is the low coastal plain, a fertile and marshy region. Through the interior of Guyana lays vast areas of dense rain forest. To the south, flat grassy plains. And in the southern portion of Guyana are the highlands with the mountains increasing in height as they near the Brazilian border.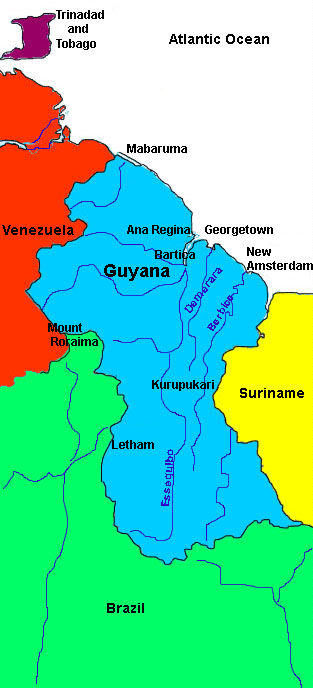 Georgetown, the Capital of Guyana, lies in the low coastal plains region. The low coastal region is the most populated of the entire country with Georgetown being the largest city with 310 thousand people of Guyana's 769 thousand inhabitants.

Guyana is bisected by many rivers; the three main rivers crossing the country are the Berbice, the Demerara and the Essequibo rivers. Guyana's numerous rivers have also given the country more than 276 waterfalls. The largest waterfall in Guyana is Kaieteur Falls and is located on the Potaro River in Kaieteur National Park. Kaieteur Falls have a drop of 741 feet and is one of the world's most powerful waterfalls.

Abundant with wildlife, the Rupununi Savannah, situated between the Brazilian border and the Rupununi River, is covered with a large variety of animals and bird species. The savannah is known to flood heavily during the rainy season running from May to August.

Guyana's highest point is Mount Roraima at 9301 feet and is located on the boarder of Venezuela, Brazil and Guyana and is part of the Parkaraima mountain range.

Guyana has one of the last untouched and unspoiled rain forests in South America, with areas still inaccessible to mankind; the rain forest has a huge assortment of wildlife and is home to many rare species such as the harpy eagle and the giant river otter. The rain forest still have jaguar roaming the jungle with Howler monkeys filling the air with their screams. Large groups of blue and yellow Macaws can be found flying through the jungle.

Guyana's climate is considered to be tropical, hot and humid, mainly two rainy seasons running from November to January and again from May to August. Coastal areas are cooled by northeast trade winds.


Guyana, first established by pirates during the 1500's and then the

Dutch

established colonies in what are today the cities of Essequibo and Berbice. The

British

took control of Guyana during the 18th century with Guyana gaining independence from Britain in 1966. The official