Don't leave home without it.
Passport
Thinking of traveling abroad, Your Passport will be the most important document you will be taking with you, it confirms your citizenship, I like to call it your World Citizenship Paper's. It lets the world know that you are not from Alabama or California but you are a citizen of the United States, Germany or Brazil. A passport will be your best form of Identification when you are traveling. It is widely used when entering countries, checking into Hotels, you most likely will be asked to fill out a police card listing name, passport number, destination, reasons for traveling and a local address. The State Department's Passport Bureau will have the information on obtaining a new or renewal passport. Many countries will require that the passport is valid for least 6 months after departure date from said country.
Visa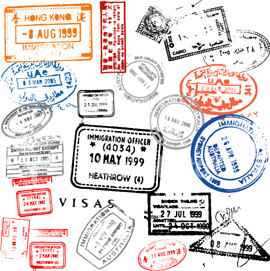 Certain countries will require in addition to a Passport a Visa; some require a tourist visa while others will require a work visa. Every country has different requirements. When I was flying to France I had to have a work Visa since I was a pilot flying into France, while at the time, if you were vacationing in France you did not need a tourist visa. Some countries will require a Visa for certain citizens; Brazil is an example that requires Visas for citizens of the United States only because the United States requires Visas from Brazilian citizens. Visas are available from the Embassy or Consulate of the country that you will be traveling to.
Passport Required

Visa Required

Return Ticket Required

British

Yes

No

Yes

Australian

Yes

No

Yes

Canadian

Yes

No/See Note

Yes

United States

Yes

No/See Note

Yes

Japanese

Yes

No

Yes

European Countries

Yes

No/See Note

Yes
Passports
Passport valid for at least three months after departure date required by all nationals referred to in the chart above except the following:
1. nationals of the European who are holders of national identity cards.
Visas
Not required by all nationals referred to in the chart above for stays of up to three months except in the following cases:
(a) 2. nationals of Canada, the USA and some European countries do not usually require a visa, but under some circumstances, such as if they are to receive a salary even if their trip is a short stay, they may need a visa. Such circumstances are decided individually. For further information, write to: Consult Général de France, Service des Visas, 6A Cromwell Place, PO Box 57, London SW7 2EW, UK, enclosing a self-addressed stamped envelope for the reply, a photocopy of the main pages of your passport and stating your exact destination and the length and purpose of your stay;
(b) US nationals need a visa if they are crew members, or journalists on assignments, or students enrolled at schools and universities in any of the French Overseas Departments.

Visa Note
Note: Nationals of the European countries do not need a long-stay visa (trips exceeding three months).
Contact Numbers
Diplomatic Representation
French Guiana is an Overseas Department of the Republic of France, and is represented abroad by French Embassies – see France section.
Comité du Tourisme de la Guyane (Guiana Tourism Committee)
Street address: 12 rue Lallouette, 97338 Cayenne Cédex, French Guiana
Postal address: BP 801, Cayenne, French Guiana
Tel: (594) 296 500.
Website: www.tourisme-guyane.com
French Consulate General in the UK
21 Cromwell Road, London SW7 2EN, UK
Visa section: 6A Cromwell Place, London SW7 2EW, UK
Tel: (020) 7073 1200 (consular section) or 1250 (visa section) or 1295 (visa applications in progress; 1500-1700 only)
Website: www.consulfrance-londres.org
Opening hours: Mon-Thurs 0845-1200 and Fri 0845-1130.
Comité du Tourisme de la Guyane (Guiana Tourism Committee) in France
1 rue Clapeyron, 75008 Paris, France
Tel: (01) 4294 1516.
Website: www.tourisme-guyane.com