Ipanema,

Rio de Janeiro's

second most famous beach, is just around the corner from Copacabana, yet close by, Ipanema has gained a reputation of being a little calmer than its neighbor. Although Ipanema has become more famously known as the "family beach" among Brazilian beaches, it has also become known as the beach to be seen or to watch the beautiful Brazilian girls show off their bathing suits.

Here you will see the girls showing off the

Brazilian

"Tanga" the mini-mini bikini. On any given day you will find the locals hanging on the beach playing volleyball, soccer or a number of water sports. Ipanema"s dazzling white sand and cool blue waters of the Atlantic make this beach very admired. Larger waves and a strong undercurrent tend to keep the beach cleaner than neighboring Copacabana.
Traversing east to west, Ipanema is bordered by the neighborhoods of Leblon and the Pedra Dois Irmaos mountains on the west end to the neighborhood of Praia do Arpoador and

Copacabana

on the east end. Ipanema and its tree lined, restaurants and café's are also sandwiched between the Atlantic Ocean and Lagoa de Freitas to the north.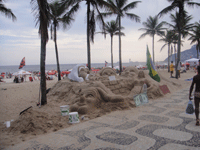 Ipanema is adjacent to Copacabana yet is a distinct neighborhood in its own way. Home to many famous restaurants, cafés and shops has helped Ipanema become one of Rio de Janeiro's most pricy neighborhoods. The area has more art galleries, universities and theaters than any other areas of Rio.
Starting in the 60's and with the song "Girl from Ipanema", Ipanema Beach has become internationally known for its tree lined streets and open air cafes and bars. Today home to Rio's wealthy and artist community, Ipanema Beach has become more hip than Copacabana Beach.
Weekends will find Avenue Vieira Souto shut down with hundreds of people riding bikes skateboarding or just strolling along the open air cafes and the beach.

Like all beaches in Rio, Ipanema can get very crowded during the weekend as well as holidays such as carnival week. It is advised when traveling to Ipanema or any other beaches to leave all valuables behind at the hotel. For a good choice of hotels with discount prices, checkout

Hotel Reservation in Rio de Janeiro

.
Getting to Ipanema is very continent if you are not staying in one of the many hotels located in and around Ipanema and Leblon neighborhoods. With over 40 bus routes serving the area from all over Rio de Janeiro as well as the Metro Station at Ipanema General Osorio Station at the east end of Ipanema Beach makes getting to the beach easy and enjoyable.