Panama Province is the most popular and populated province in

Panama

, home to Panama City, the capital, the province is world known for the Panama Canal,

Taboga Island/Isla Taboga

and the Pearl Islands. Located on the southern coast of the Isthmus of Panama the Panama Province shares its boarders to the east with the Darien Province to the north with San Blas and Colon Provinces and to the west with Cocle province. The Pacific Ocean makes up the southern coastline of the province and is home to some spectacular beaches such as Playa Coronado, Play San Carlos and Playa Gorgona , into the bay of Panama the province extends to the popular Islands of Taboga and Isla Contadora.

Rich in history, the Panama Province has seen its share of explores from Vasco Nunez de Balboa who became the first

Spanish

explorer to cross the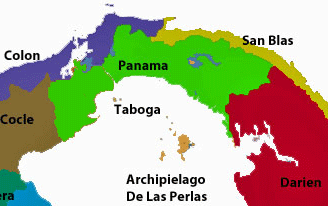 Isthmus of Panama and reach the Pacific Ocean in the New World, to the many pirates that sailed the waters off of Panama in search of gold and treasure. Two of the most famous and notorious Privateers as they were called, were Sir Henry Morgan from

Wales

, who in 1671 fought the Spaniards outside of Panama City then looted and burned the city, another famous one was Sir Frances Drake from

England

who established a base on the Island of Taboga and used the island as a place to raid the mainland of Panama and other cities.

Today the Panama Province is well known for the Panama Canal with over 14,000 ships entering and transiting the canal to its ultra modern city. Panama City is home to modern buildings, some of the world's largest banks, restaurants and shopping that rival many cosmopolitan cities.



If you are making your first trip to Panama, you will most likely be entering the Panama Province first; with its many attractions you will see why the area is the most popular.

Getting to see the Panama Province is made easy with entry through Panama's main International Airport, Tocumen International Airport PTY/MPTO located on the outskirts of Panama City.