Located in the still undeveloped region of Nicoya Peninsula in the Guanacaste province of Costa Rica, Playa San Miguel attracts the adventurous, the seekers of solitude and those who relax best in quiet, remote regions of the globe. Adventurers come for the surf, the waterfalls, the sports fishing and the hiking while those who enjoy peace and quiet in natural settings come for the unpopulated beaches and lush jungle forests, as well as the spectacular beauty.
Playa San Miguel embraces six miles of Pacific ocean shore with natural pools providing safe swimming for all levels and ages. From cool dips in the quiet of the estuary or daredevil surfing in the challenging swells a few minutes walk away, Playa San Miguel offers perfect beach experiences for all. While beaches worldwide are usually peopled to excess, the rough, dirt roads of this area of Nicoya means that only the savviest travelers make the trek to these untrammeled beaches.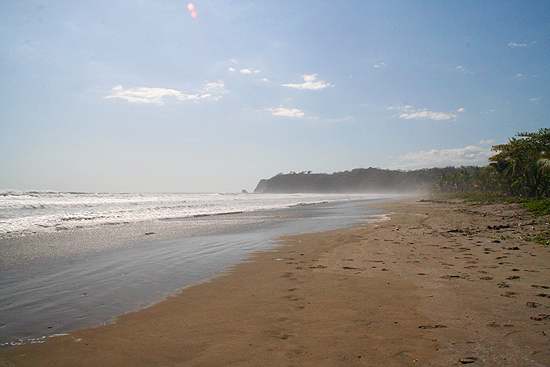 Costa Rica is home to more than 500,000 species, making this small country one of the richest in biodiversity on the planet. Costa Rica's two coasts and its middle mountainous region contains numerous microclimates that allow a natural wealth in animal species. Nicoya Peninsula and Playa San Miguel hosts many wild creatures, and travelers there can see and hear a variety of parrots and monkeys, visit an outdoor butterfly farm and view whales and dolphins from the shore. From December to April, sea turtles nest at night on the beaches and visitors can assist local volunteers with hatchling releases. Ecotourism flourishes in Costa Rica's provinces as the country is devoted to preserving and conserving its great natural beauty and rich biodiversity. The Cabo Blanco Nature Preserve can be enjoyed from San Miguel in a day trip down the peninsula.
Traveling to San Miguel from San Jose is either a short flight via commuter plane to Islita Airstrip with a short drive to Playa San Miguel, or a half-day excursion by bus or car on a picturesque drive that includes a ferry ride on the Golfa de Nicoya. While Playa San Miguel offers the best of pristine beachfront, nearby beach towns of Mal Pais and Samara provides shopping excursions and visits to other tourist destinations. Attractive inns around Playa San Miguel provide comfortable rooms or cabins with stunning vistas and excellent local and international cuisine.