Playa Pelada is located in the Palyas de Nosara, in the province of Guanacaste on the Nicoya Peninsula, Costa Rica. This is the Pacific Coast area, comprising the beach communities of Playa Guiones, Playa Pelada and the pueblo of Nosara. The area was home to the Choretaga Indians and today the beach towns are a family oriented area where local fisherman, yoga enthusiasts, eco tourists, ex-pats, and world class surfers all enjoy the natural environment and beautiful beaches.
The pueblo of Nosara is actually about 6 km inland, with some small hotels and restaurants. Most of the larger hotels and homes lie along the beaches. There is a landing strip in Nosara for daily flights to San Jose. A large expatriate community lives along the beaches, started in 1962 by a US citizen who bought an extensive amount of land along the coast and started to develop it for residential lots. Later, investors bought the land and the NCA (Nosara Civic Association) was created as the the property owners association dedicated to protecting the tranquil environment of Nosara and keeping it free from pollution and over development. Protected forest covers about one half of the area and no logging or hunting is allowed.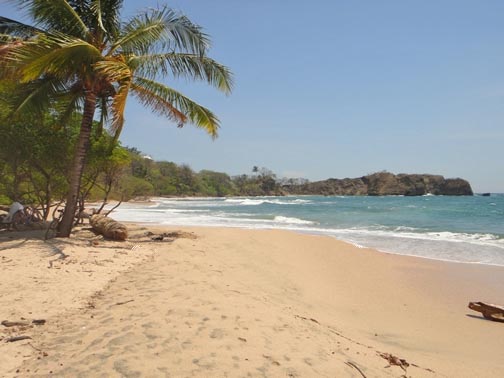 The beach at Playa Pelada is north of Playa Guiones. It is a lovely crescent-shaped beach with large trees for shade, nice shelling, interesting tide pools to explore, and a tide activated blow hole at the southern end of the beach. The spray is highest when the tide is transitioning. At the northern end of the beach are tide pools and caves and a trail that goes up into the cliffs of Punta Nosera.The beach at Playa Pelada is particularly good for swimming as there is an offshore reef, creating a protected bay.
Playa Pelada has two beachside bars that are favorite places for locals and visitors alike to enjoy the sunset. Shelling, walking, swimming, snorkeling, and exploring the cliffs, rocks, caves and tide pools are the primary activities on this beach. The general area also has a good number of hotels, bed and breakfasts, and vacation rentals, as well as a yoga spa and some good restaurants.
The primary attractions of the area involve nature and the beautiful environment of Nosara. On the south side of Rio Nosara there is a 50 hectacre private nature reserve with an abundance of animals. Tours are available by reservation.
This area also has lagoons and mangroves making it an ideal habitat for kayaking and adventure tours as well as fishing. Boat, kayak, and sport fishing tours are all readily available. The best surfing beaches are Playa Guiones and Playa Nosara and there are several surfing schools.
Yoga and spa services are available with an emphasis on health and spiritual rejuvenation. Horseback riding tours along the beaches or general countryside are also popular. A remarkable sight is the nesting turtles that arrive on the beaches from July through December.