Playa Coyote is located in the southern region of the Nicoya Peninsula and is considered one of Costa Rica's best beaches. Still, shallow waters allow for a peaceful swimming experience, but avid surfers can catch their waves at nearby Punta Coytote. The pristine beaches aren't the only ares attraction the area has to offer. Snorkeling, fishing, exotic wildlife spotting (either with a guide or on your own) and spelunking are activities the adventure-seeking traveler will want to indulge in as well.
For nature lovers, the nearby Cabo Blanco Nature Reserve and Barra Honda National Park are not to be missed. Cabo Blanco was the first nature preserve in Costa Rica. Visitors are allowed to hike along their choice of two trails. The forest is lush with numerous varieties of trees, from cedar to wild plum and countless wildlife. Barra Honda National Park hosts an expansive system of caves, including the bat cave, known as the Pozo Hediondo, but each must be explored with climbing gear and a guide. For those less adventurous, the park offers a labyrinth of hiking trails that are more accessible.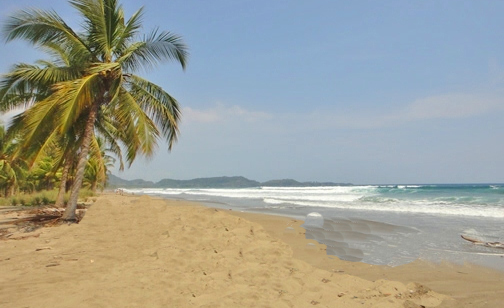 Playa Coyote can be accessed best by taking a flight from San Jose to either the Samara or Punta Islita airports and driving through San Francisco de Coyote. Most attractions can best be accessed by car, as bus routes are somewhat limited.
Nicoya Peninsula wasn't always a part of Costa Rica. Initially part of Nicaragua following Central America's independence from Spain in 1821, three years later the region seceded from Nicaragua and became part of Costa Rica. Playa Coyote falls in the province of Guanacaste, the name of the original Nicaraguan territory and still shares similarities in terrain and climate with the neighboring country. Agriculture and cattle ranching are primary economic sustainabilities of the area, with tourism playing an ever increasing fiscal role.
The Playa Coyote rainy season spans from May to November, the worst times being late September and October. Many shops and hotel in town shut down during this time, which is something to take into consideration when planning a trip. Temperatures range from mid to low 70s at night to mid to low 90s during the day all throughout the year, making for a comfortable climate whatever season you choose to visit.