On the northwest coast of Costa Rica, the Nicoya peninsula comprises the Costa Rican province of Guanacaste, which because of its unspoiled beauty and pristine beaches is fast becoming a popular destination for those travelers looking for a quiet and relaxing vacation free from the milling crowds that characterize so many Central American tourist spots.
There are many beautiful beaches all along the Pacific coast of Nicoya, but toward the southern end is the hidden gem of Playa Caletas, a gorgeous strip of sandy beach that can seem more imaginary than a real place. Because of its relative isolation, getting to Playa Caletas can be rather difficult, but once there the primordial and unsullied beauty of the area makes the effort worthwhile. The offshore Pacific breezes moderate the temperature year-round, and the backdrop of rugged hills covered in lush forest truly marks the spot as a paradise found.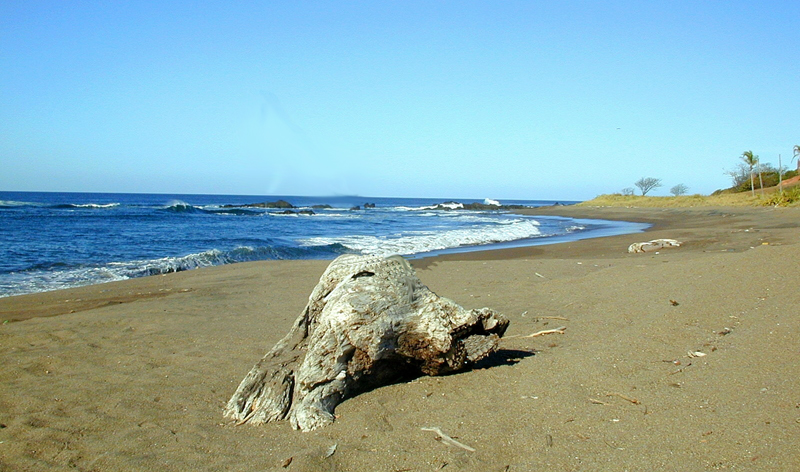 Playa Caletas is one of the best surfing beaches in Costa Rica, and has recently become very popular with the surfing set. The swells can be quite large depending on the winds and tides, so it's not a place for inexperienced surfers. For the experienced surfer however, the reef breaks and swells make for ideal conditions and tons of fun, with the best conditions lasting from April through August.
Another interesting attraction of Playa Caletas is that it is a primary nesting ground for both the Olive Ridley and the Eastern Leatherback sea turtles, both highly endangered species. Since 2003, the conservation group, Project PRETOMA, has been spearheading efforts to raise awareness and provide permanent protection for the area, and in 2006, the Costa Rican government set aside 313 hectares as the Playa Caletas-Ario National Wildlife Refuge. Every year PRETOMA operates a research project in the refuge coinciding with the sea turtle nesting season, from July through February, and to date has overseen the release of over 200,000 turtle sea turtle hatchlings into the wild.
Aside from surfing and wildlife conservancy, there are plenty of other activities to enjoy at Playa Caletas, from horseback riding, kayaking, sport fishing or just enjoying a leisurely stroll along the secluded shoreline. There are also a number of hotels and accommodations within easy distance to suit every pocketbook.
To easiest way to get to Playa Caletas is to take a domestic flight to Punta Islita from the capital of San Jose, and then drive down to the beach, which is about a half hour trip by car, depending on the season.