The Curu Wildlife Refuge in Costa Rica is a dry tropical forest on the tip of the Nicoya Peninsula. The first private National Wildlife Refuge established in 1983, it has sandy beaches and an estuary as well as beautiful views from the surrounding hills. Wildlife is the main attraction in Curu and there is plenty of it.
There are well maintained trails for walking tours around the area and visitors get constant sightings of the plentiful birds in the habitat. Brown Pelicans and majestic Frigate birds swoop and dive in the shallows for sardines. There are also scarlet macaws, and hundreds of migratory and tropical birds. Costa Rica is also a place with a tremendous biodiversity of reptiles and there are many varieties seen in Curu. Considered one of the best kept secrets of Costa Rica, it is perfect for a rustic beach holiday without the crowds of tourists.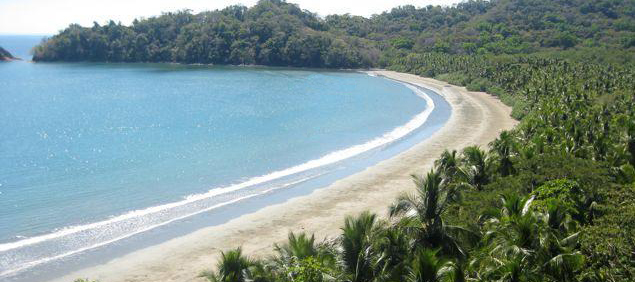 A tropical paradise, visitors say it is from another era, untouched and ancient. Spider monkeys and Capuchin monkeys enjoy the good life in the tree canopy and watch visitors strolling through the shaded forest.
The Tortuga Islands are nearby and can be visited in kayaks. They are surrounded by giant Manta Rays, stingrays, dolphins, flying fish, nurse sharks and Moray eels. These can be seen while kayaking or snorkeling in the Bay of Curu. White-tailed Deer, coyotes, howler monkeys, boa constrictors, hermit crabs, raccoons, black and green iguanas, collared peccary, coati and armadillos are just a few of the many land animals to be seen in Curu.
The Curu Wildlife Refuge has been the home for reintroduction of endangered species. The Spider Monkey and Scarlet Macaw are making a comeback in the area after having been declared extinct in the 1990s. There is also a parrot conservation plan to protect suitable nesting sites for the many species of parrots in the area.
From San Jose, visitors drive or otherwise get to Puntarenas. There is a ferry to Paquera which takes between 60 and 90 minutes. From Paquera the entrance to the Curu Wildlife Refuge is 30 minutes. It is also possible to fly to the Tambor airport, the only airport on the Nicoya Peninsula, and drive to the entrance of the refuge in 20 minutes.
There are cabins with very basic amenities on the Curu beach. In Paquera and Tambor, about 10 to 15 km from Curu, there are less basic accommodations.