Located at the southern most point of the Nicoya Peninsula lays Cabo Blanco "Absolute" Nature Reserve. Listed as one of Costa Rica's best and beautiful nature reserves, Cabo Blanco is made up of  2,896 acres of pristine white sand and shell strewn beaches. From the tide pools along the ocean to the evergreen forest inland, this moist micro climate makes this a Naturist paradise. Winding trails and deserted beaches one will find Cabo Blanco is quite different from the rest of the Nicoya Peninsula.
Cabo Blanco Nature Reserve was created in 1963 much from the efforts of Nils Olof Wesberg and his wife Karen Mogensen , Danish-Swedish immigrants that lived in nearby Montezuma. The couple was upset after finding large sections of the area clear cut in the late 50's and pushed for the area to become a Nature Reserve in the Costa Rica Park system. Today only around 15% of primary forest remains with the largest portion of forest being around 50 years old. Wesberg and his wife Mogenson were intrumental in the push for ecological areas and reserves throughout Costa Rica. Wesberg was murdered in 1975 during one such campaign in the Osa Peninsula. Mogensen continued the couples work till her death in 1994.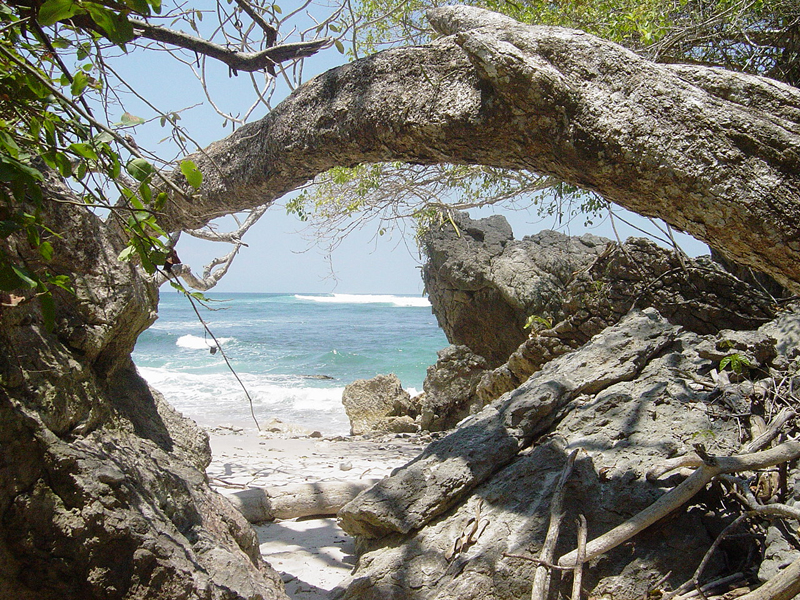 The main entrance into the Cabo Blanco nature Reserve is located about 11 km south of Montezuma, entrance is also available by walking the coastline south from the town of Malpais. To minimize environmental impact on the area the Reserve is closed on Mondays and Tuesdays. One will still see signs calling the area Cabo Blanco "Absolute" Nature Reserve since the reserve was closed to all visitors until the late 80's. At the southern most tip is located the white cap island called Isla Cabo Blanco. Named by Spanish conquistadors, after observing that the rocks were covered with Guano (bird droppings). Large numbers of brown pelicans and Costa Rica's brown boobies can also be found in the sky's of  the reserve.