A secluded and natural beach and resort area,
Playa Panama
is situated on the northwestern coast of
Guanacaste
region of Costa Rica in the Gulf of Papagayo. In the region, the Gulf of Papagayo shows the most significant signs of development with hotels, shops and restaurants along the coast and small villages. Still, the beach is often quiet and free of people, and the entire area offers eco-friendly adventures exploring natural Costa Rica with its lush vegetation and abundant wildlife.Playa Panama faces the Pacific Ocean on the northern end of the
Nicoya Peninsula
of the Guanacaste Province of the country. The province became part of independent
Costa Rica
in the 1820s. Still, the history of the region goes back to ancient times. The Nicoya Peninsula was home to the Chorotega who lived on the peninsula for many centuries. Then, Spain started settling Costa Rica in the 1600s and built a church in the town of Nicoya. Today, the independent country is proud of its natural beauty and resources. Much of the peninsula is preserved in its natural state with wildlife and jungle forests.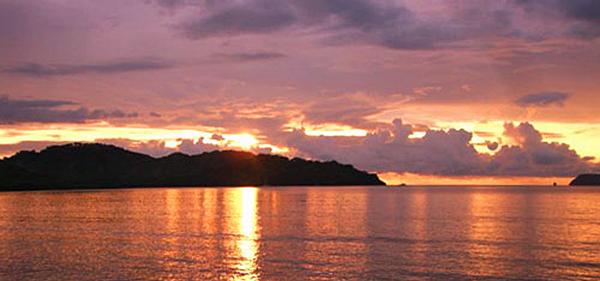 The beach is a lovely retreat where people can relax and watch the coastal water birds and other wildlife. In the evening, the sand near the water's edge is the place to be to watch the sunset over the bay. The pathway down to the water is well-kept and sheltered by attractive low-growing trees.
Playa Panama and the surrounding area provide plenty to see and do in its outdoor space. Many visitors come to go diving and exploring the amazing worlds and sea creature habitats along the coast. The Guanacaste region has several national parks within easy reach of Playa Panama, Santa Rosa and Guanacaste National Park are just 2 that are close by. The parks have  ranger stations in its heart to which people hike on jungle trails, and they can sleep there overnight. While those that explore the park should carry their own supplies like water to drink and mosquito netting for overnight stays, the park is a wonderful place to see animals such as anteaters, sloths and tree frogs as well as birds like tanagers, parrots and quetzals.
Other area attractions are volcanos, waterfalls and Witch's Rock that is a large bolder standing in the waters off the coast. With direct access to the Pacific Ocean through the Gulf of Papagayo and the natural wilds of Costa Rica all around the beach, Playa Panama is a beautiful place to appreciate the best of this Central American country.