For those looking for a tranquil and relaxing vacation in an out-of-the-way location that is free from milling crowds of tourists, consider Playa Junquillal in Costa Rica. Located in Guanacaste province on the Nicoya peninsula on Costa Rica's northwest Pacific coast, Playa Junquillal is one of the better-kept secrets of Costa Rica's many tantalizing destinations.
Junquillal is a tidy and relaxed village that flies the Blue Flag with pride, an ecological award given in recognition of clean beaches and waters and environmental awareness. Junquillal fronts a 3-kilometer strip of pristine and gorgeous black and white sand beach. The area around the village remains mostly undeveloped, with just a few hotels and restaurants near the beach, and while Junquillal lacks the trendy tourist venues of other Costa Rican locations, this lack is more than made up for by the serenity of the largely deserted beach and unspoiled beauty of the surrounding countryside.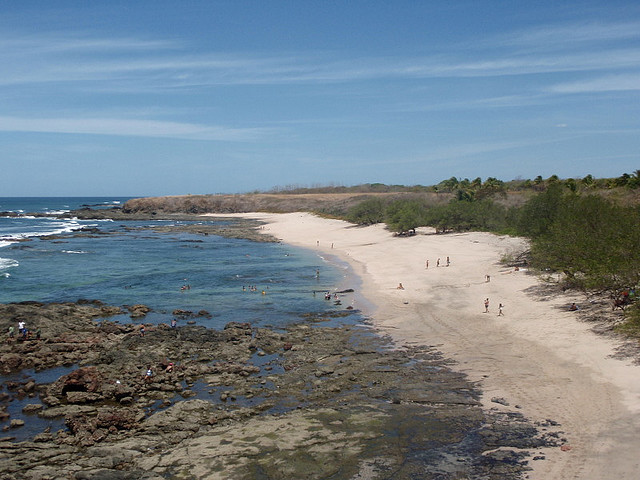 Swimming is not advised off Playa Junquillal due to strong rip tides and powerful waves, but the conditions are ideal for expert surfers and there are some fantastic tide pools nearby for snorkeling and bathing. The nearby lagoon at the estuary of the Rio Nandamojo offers excellent fishing and kayaking opportunities, and other local activities include horseback riding, mountain biking, hiking and camping. In nearby Playa Callajones, about a 10-minute drive up the coast, there are sport fishing tours and boat charters available. Other nearby attractions include Palo Verde, the caves of Barra Honda and the Ostional Wildlife Reserve.
Another fascinating attraction of Playa Junquillal is the sea turtle project. From July through February, four different species of sea turtles dig their nests in the sands, including the highly endangered leatherback turtle. The community oversees a hatching station in the center of Playa Junquillal, and at night young people from the village patrol the beach to protect the eggs from poachers and predation. If a visit is timed just right, one of the most amazing phenomena in nature can be witnessed as thousands of young turtle hatchlings emerge from their nests and scurry across the sands to the sea.
Playa Junquillal is about 30 kilometers west of Santa Cruz, and 20 kilometers south from Tamarindo. The best way to get there is by rental car, and there are newly paved roads for most of the journey from either Santa Cruz or Tamarindo. The closest international airport within reach of Playa Junquillal is the Liberia Airport in Liberia.