With its sparkling blue waters and pristine sand, Playa Hermosa has earned its reputation as one of Costa Rica's most beautiful beaches. Located on Costa Rica's stunning Guanacaste Pacific coast, Playa Hermosa is a rapidly growing resort beach that combines careful development with environmental preservation and natural wonders.
Playa Hermosa and its neighbor beaches are currently the focus of a government project to develop better tourist infrastructure while still maintaining the natural beauty that Costa Rica is famous for.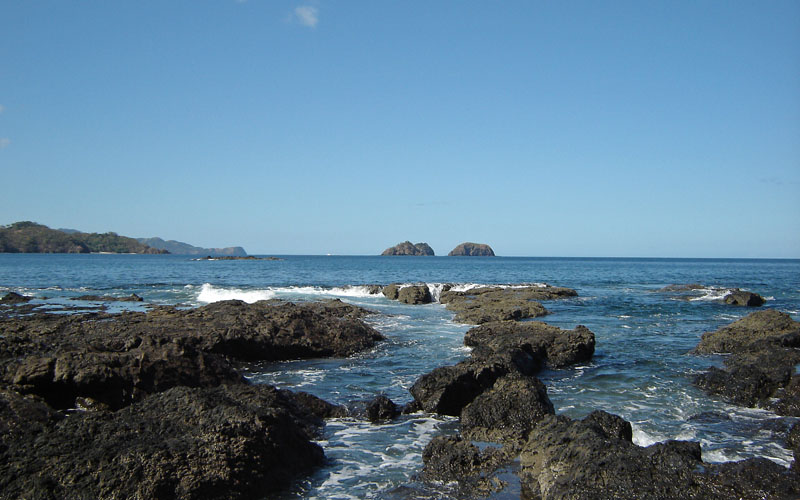 Daniel Oduber International Airport is only half an hour away from Playa Hermosa by paved highway, making it easily accessible year-round. Several hotels and restaurants cater to tourists at all price points, although you will find less nightlife and a more relaxed atmosphere than in the neighboring resort towns of Playa Ocotal and Playa del Coco.
Despite the ongoing tourist development Playa Hermosa has maintained its natural beauty and pristine environment. Playa Hermosa recently received the Costa Rican government's Blue Ecological Flag award in honor of its clean waters and pollution free environments.
Playa Hermosa's attraction lies in the beauty of the coast and its proximity to several other Costa Rican national wonders, such as the Rincon de la Vieja and Santa Rosa National Parks. Santa Rosa National Park is home to world-class surfing and hiking as well as several historical sites and hundreds of rare animals. A small museum commemorates the Battle of Santa Rosa Hacienda, where Costa Rican militia defeated a mercenary band led by the infamous freebooter William Walker.
At Rincon de la Vieja visitors can hike to the crater of a 6200 ft volcano and view geothermal wonders such as mud pots and fumaroles. Visitors can bathe in several natural hot springs throughout the park. On a clear day hikers at the summit of Ricon de la Vieja can see nearly all of Costa Rica. Both national parks offer camping for thrifty visitors looking for a rustic experience.
Playa Hermosa's mix of natural beauty and tourist amenities make it an exciting destination for any traveler. Careful development and land management has made the area one of the most accessible and exciting tourist areas in Costa Rica while conserving the environment.