Ostional National Wildlife Refuge in Costa Rica is a reserve which was created to protect nine miles of coastline and 613 acres of habitat living in the ocean and on land. This refuge which also reaches out 300 miles into the sea is a famous protective area for the marine Olive Ridley turtle, and is the most significant nesting beach for the species in the world. In addition to the Olive Ridley turtle there are many other animal species which can be viewed in this important refuge. This refuge includes three beaches, Playa Ostional, Playa Nosara and Playa Guiones.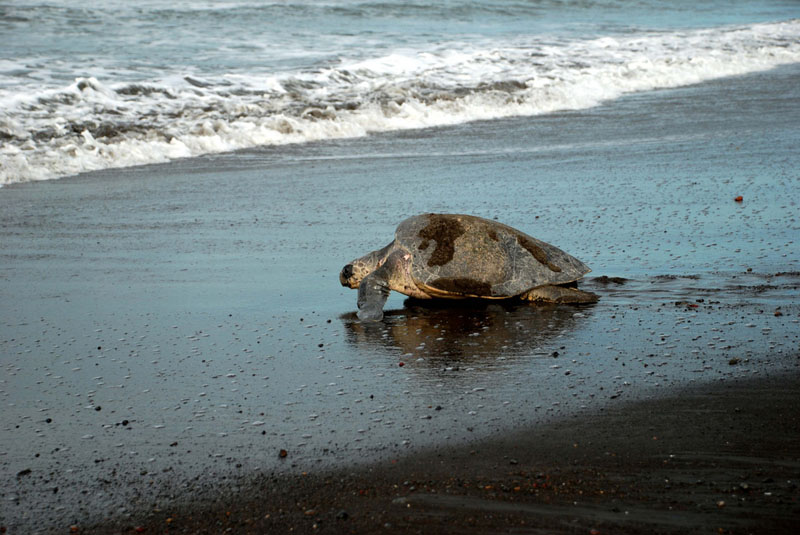 Every year between the months of July and December, an important event know as "arribas" (the arrival) takes place in which massive numbers of Olive Ridley sea turtles come out of the sea and onto the shore to lay their eggs. The arribas take place every three to four weeks beginning with the last quarter of the full moon, and each one lasts for about a week. This is quite a sight to see, as during certain times the beach is covered with thousands of turtles. It is also amazing to see the turtles hatch–45 to 60 days later–when the baby turtles immediately make their way to the sea. The Olive Ridley is one of only two turtle species that synchronizes their nesting, and Ostional is one of the few nesting places in the world where this stunning event takes place.
There are many other animals that make their home at Ostional Refuge, such as the leatherback turtle, the Fishing Bulldog bat, iguanas, monkeys, the Brown Pelican, the Magnificent Frigatebird and at least one hundred other species of birds. In addition to many species of turtle, other sea creatures include red rock crabs, sea urchins, anemones and starfish.
Ostional National Wildlife Refuge is located in the province of Guanacaste and can be accessed through the cities of Nosara or San Juanillo. For those who want to visit Ostional National Wildlife Refuge, it is advisable to fly into San Jose, and then take a local flight to Nosara. Getting to the refuge can be difficult, especially during rainy season. Four-wheel-drive vehicles can be rented or there are company tours available. Once you arrive, there is a small entry fee.
If planning a trip to the Guanacaste region in Costa Rica, Ostional National Wildlife Refuge is one destination that you will not want to miss. The "arribas" is a phenomenon few people get to see in their lifetime.