Miravalles National Park has the highest volcano in the Cordillera de Guanacaste in northwestern Costa Rica. The area is known for its spectacular scenery, wildlife and hot springs.
Although the area is often referred to as "Miravalles National Park," it is not actually a national park, but is instead a nature reserve known as the Miravalles Protected Zone. The protected zone covers nearly 29,000 acres of savannah, forest and cloud forest, including much of the Miravalles Volcano itself. The protected zone is operated by the national parks agency, but no ranger station or other park facilities occur within the zone.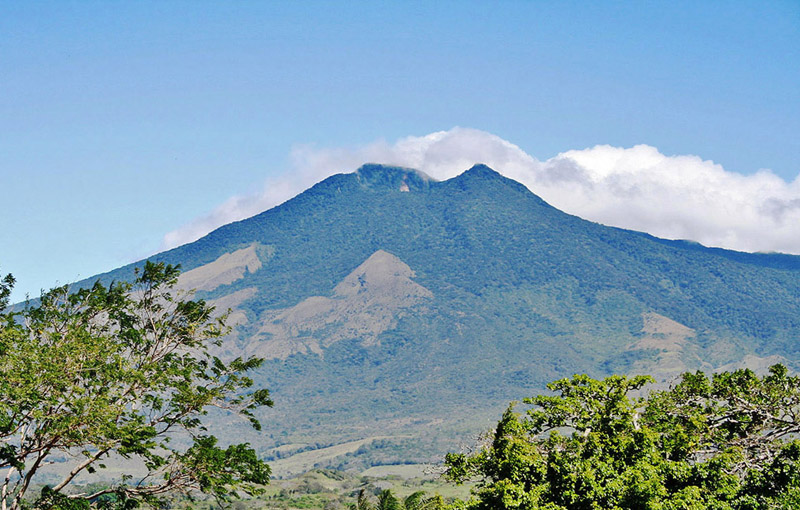 The Miravalles Volcano itself is over 2,200 meters high. It comprises a caldera that contains several younger cones and volcanic features. The caldera was created bout 500,000 years ago, when the upper portion of a previous volcano was destroyed in a series of massive eruptions. The volcano is currently listed as active, but it has not produced a significant historical eruption. The most recent major eruption was about 7,000 years ago, but a minor steam eruption occurred in 1946. Geothermal activity in the area is common, however, and there are many hot springs, and even a geothermal power plant.
The west flank of the mountain is covered with savannah scrub, while the east flank bears cloud forests. The cloud forest is well preserved. It contains both cloud forest and moist forest, comprising several different life zones. Rainfall varies with distance from the summit, but may exceed 140 inches annually in some areas. Temperature also varies, occasionally touching the freezing point at the summit, but typically above 75 degrees Fahrenheit in the surrounding lowlands.
The forests contain a wide variety of plant and animal life. Coconut palms and ferns abound, often gripped by epiphytes. Wild cats haunt the forest, as do coyotes, capuchin monkeys, deer and peccaries (wild pigs). With nearly 500 species in habiting it, the forest supports abundant birdlife. Many spectacular rivers and waterfalls also occur there, as does the oldest pre-Hispanic archeological site in Costa Rica.
Common tourist activities in the area include wildlife watching, hiking and bathing in the area's renowned hot muds. Although there are no maintained park facilities, there are two different paths to the mountain's summit. Hot springs occur at Las Hornillas, about 700m up the mountain's south flank. Tractor tours are available to waterfalls and many different fumaroles.
The area is accessible by car along Highway 1 to Bagaces, the nearest town. Allow about three hours or so for the trip. Also nearby are the Rincon de la Vieja and Tenorio Volcano National parks, which cover the volcanic peaks to the north and south, respectively, of Miravalles Volcano.