Costa Rica has several beautiful beaches on the Pacific Ocean side and Bahia Salinas is one of the best. Salinas Bay is located on the northwestern tip of Costa Rica in the province of Guanacaste. Also known as Salinas Bay, it is a hot spot for wind surfing, kite boarding and bird watching.  Bahia Salinas is on the northern tip of Costa Rica approximately 1.5 hours from the Daniel Oduber Quiros International Airport in the city of Liberia.  Bahia Salinas is famous for its beautiful windswept beaches, fishing, along with kayaking and sunset boat tours.
Bahia Salinas has a great deal of entertainment for the traveler to see and do. The dry season is November to June and the temperature ranges between 80 and 100 degrees Fahrenheit. For windsurfing, this is the ideal place to surf. Kite boarding is fun and there is always wind in the dry season to accommodate your needs.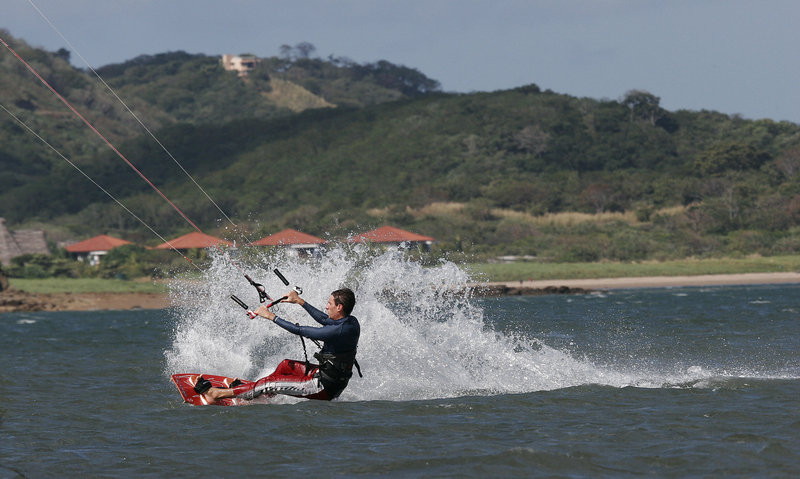 The traveler looking for a more peaceful adventure will enjoy the Santa Rosa National Park. This park is home to more than 200 bird species. For bird watching enthusiasts, a boat tour to Isla Bolanos is imperative. The island in the middle of the bay is a wild life refuge and houses the nesting grounds for the brown pelican which is an endangered species. There is lush vegetation surrounding white beaches which lends itself to a peaceful walk on the beach. This will let anyone looking to get back to nature with the experience and lovely views of the natural flora and fauna. Mountain biking or kayaking in the area is another way to experience nature in Bahia Salinas. Sunbathing on the beach can be found in secluded crescent shaped beaches opposite from the windsurfing areas.
Tours of Nicaragua are offered at Bahia Salinas. The adventurer who loves to encounter history can take a 1 or 2 day tour of Nicaraguan colonial cities. Salinas Bay, nestled along the coast, offers fresh fish and seafood in many of its hotel restaurants. The local cuisine shines and tempts the pallet of any traveler searching for international and national cuisine.
Bahia Salinasplays host to a sunset cruise that provides the traveler with gorgeous, fiery sunsets that will bring the end to a perfect day. Salinas Bay, Costa Rica has a lot of diverse opportunities to experience, come and see it for yourself.