Nestled along the coastline of the Guanacaste region of Costa Rica, is beautiful Playa Azul. Remaining largely undiscovered has helped to keep Playa Azul the perfect place to get away from it all. Characterizing this coastal paradise are the beautiful deep azure waters lined by steel grey beaches, gently merging with a lush carpet of vegetation that teems with an amazing diversity of wildlife. The current day Playa Azul coastline is probably much like the scene that greeted Christopher Columbus when he first set foot on the shores of Costa Rica in 1502.
Until recently, Playa Azul was a treasure known only to the locals. In the last few years, however, tourism has opened up, allowing outsiders to experience this tropical playground. Although visitors will not find overcrowded beaches or large shopping malls, they will find extraordinary natural beauty and plenty to do! Zip-line through the forest canopy suspended as high as 100 feet above the forest floor, spend the day whale watching, surf the Guanacaste region's world-class breaks at nearby Marbella, venture forth on horseback for a trek through the jungle, or just enjoy the natural splendor of the region. These are just a few samples of what awaits visitors to Playa Azul.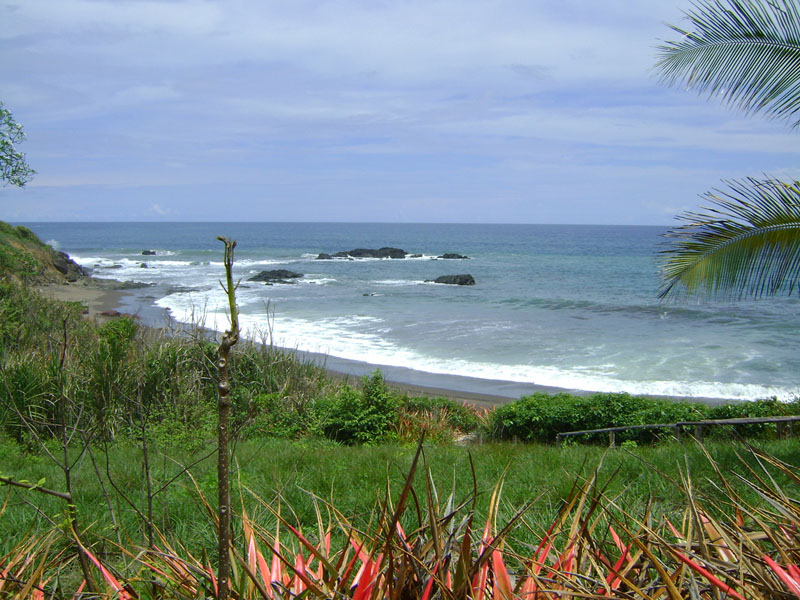 While the typical collection of all-inclusive resorts and standard tourist fare are absent, recent development has seen luxury spa and resort accommodations created that blend seamlessly with the natural beauty of the area.
Even though Playa Azul is a bit secluded, it is within easy access of the best attractions in Costa Rica! The surfing hot-spot Marbella is just a few miles to the north, and two miles south is lovely San Juanillo, a favorite spot to enjoy fresh lobster and fish and a popular embarkation point for diving charters and fishing excursions.
The Guanacaste region of Costa Rica is also well known as a haven for various types of sea turtles, with the Ostional Wildlife Refuge offering a safe nesting site for a variety of species including the Olive Ridley, Leatherback and Green turtles. The refuge, located a short distance south of Playa Azul, was established in 1984 and serves as a sanctuary for many species of marine and avian wildlife. Turtles nest year round at Ostional, allowing visitors during any season to experience the arribada, the time when female turtles come ashore to lay their eggs. It is quite an experience!