A haven to hikers and birdwatchers, Carara National Park offers an amazing diversity of fauna and flora that any nature-lover will appreciate. Nestled along the Central Pacific Coast of beautiful Costa Rica, the park was established as a biological reserve in 1978. Due to its increased popularity, it was upgraded to national park status in 1998.
Bring Your Binoculars
Travelers from around the world venture to Carara National Park in hopes of seeing one of the few Scarlet Macaws left in existence. The part protects one of the last wild colonies as there are said to be around 150 of these gorgeous birds that can be seen at dusk as they head to the coastal mangroves to roost at night.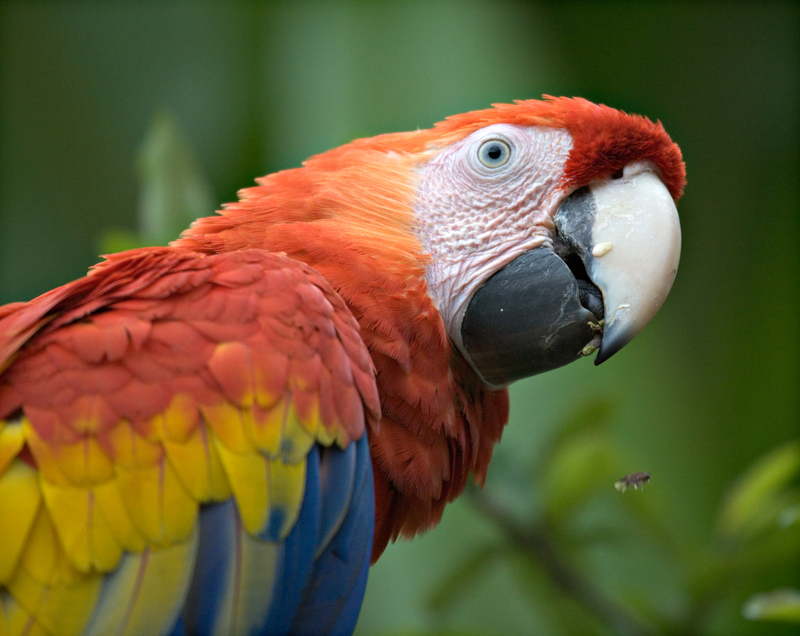 There are also more than 400 other species to be spotted in this delicate ecosystem. Other birds that enthusiasts are always delighted to spot include the Collared Forest-falcon, Boat-billed heron, Mangrove Black-hawk and the endemic Mangrove hummingbird.
Wildlife
You don't have to be a bird-lover to enjoy spotting other wildlife at Carara National Park. Crocodiles can be found along the river in abundance which you have a good chance of seeing up close if you take one of the park's touring boat rides.
The collection of forests, lagoons and marshlands attract an array of wildlife. Hiking on one of the two trails through the park may grant you photo opportunities of monkeys, armadillos, boas, jaguars, Margay cats, white-tailed deer, opossums, tayra, kinkajou and more.
Marvel at the Flora
Carara National Park offers one of the world's most diverse tree collections. Tall species can be found, draped in creeping vines and epiphytes. Then, when the dry season arrives, the land transforms into a blanket of brilliant yellow flowers.
Getting Here
Carara National Park is in a fairly central location with Jaco about 15 miles south and San Jose roughly 30 miles to the east. You can take a bus from either location but you need to make lodging locations near the park or be prepared to take the last bus back as no camping is permitted on the grounds.
If you are driving in from San Jose, you will follow Avenida 10 to Highway 27. Take this west 34 miles until you reach the town of Orotina. Continue 3 miles and turn left on Highway 34. Follow this scenic, coastal highway 11 miles to the Tarcoles River. Cross the bridge and you are at the boundary of the park. The ranger station can be found 1.8 miles into the park.
Considerations
The forests of Carara National Park are hot and humid, even in the drier season. Regardless when you visit, be prepared for mosquitoes and other biting insects. Long sleeves and pants as well as a quality repellant are strongly recommended to ensure that you enjoy your visit without being bothered by pests.