Costa Rica's Caribbean coastline, the least visited yet maybe the most beautiful section of Costa Rica. Extending from the northern border with Nicaragua southward to the border with Panama, the lush Caribbean region of Costa Rica offers adventure seekers as well as nature lovers a land filled with indescribable natural riches. From unbelievable pristine white sand beaches to lush tropical rainforest teeming with countless species of wild life, the Costa Rica Caribbean coastline is just waiting to be discovered.
The gateway to Costa Rica's Caribbean region is the port city of Puerto Limon, a three hour drive from Costa Rica's capital city of San Jose will take travelers over the Central Mountain Range, passing through Zurqui Tunnel, the only tunnel to be found in the country, dense tropical rainforest will give way to banana plantations and palm tree lined roads leading to Puerto Limon. Puerto Limon is also home to Costa Rica's only Caribbean cruise port.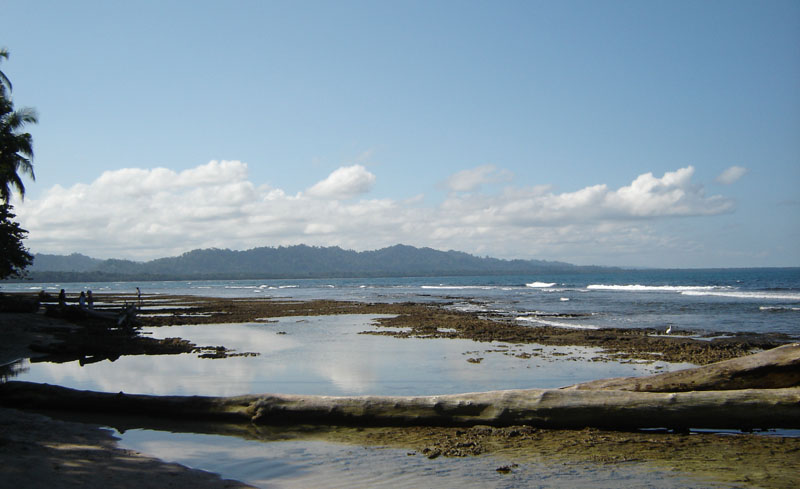 The Costa Rica Caribbean region can be divided into two main areas; the northern Caribbean coastline is home to some of the best wildlife viewing in all of Costa Rica, home to two of the country's finest national parks, Tortuguero National Park and Barra del Colorado National Wildlife Refuge. Travel to Tortuguero is mainly from Puerto Limon via excursion boats or from San Jose by air. Several lodges will make arrangements to pick up their guest in Puerto Limon. Tortuguero National Park is inundated year round by migrating turtles, June to November will find upwards of 30,000 green turtles making their way onshore to lay their eggs, while the months of February till July will see Giant Leatherback turtles nesting along the same beaches. Headed north from Tortuguero National Park is Barra del Colorado National Wild Refuge extending north to the Nicaraguan border. With less amenities than Tortuguero the area is mainly known for its fishing.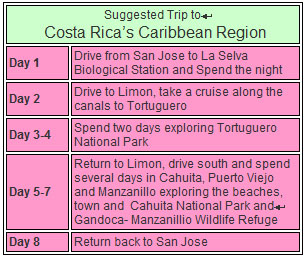 The southern Caribbean coastline is known for its clear blue waters attracting snorkelers and beachcombers alike. Cahuita National Park, with its many coral reefs is a big draw. The southern Caribbean area host some of Costa Rica's most unspoiled rainforests, nature lovers will find Hitoy-Cerere Biological Reserve a treasure drove of wildlife. Puerto Viejo, just 30 minutes south of Cahuita National Park is known for its Caribbean flavor, with descendants of Jamaican heritage that came to work the banana plantations and Costa Rica's railroad during the late 1800's , the area is deep in Creole traditions that travelers will find evident in the local food, music and Mardi Gras celebrations. The end of the road leads to Manzanillo, the southernmost reaches of the Caribbean coastline is an area that time has forgotten. Adventure seekers will find Gandoca-Manzanillio Wildlife Refuge the perfect launching point for adventures into the jungles, with boating, horseback riding or just hiking to enjoy this area rich in wildlife and scenery that should wet any appetite.
Costa Rica's Caribbean coast sees the heaviest of the countries rainfall, over 200 inches of rain a year is not uncommon for this region , yet compared to the rest of the country, the rain is spread out through the year. July and December will find the heaviest months with August through October the least amount. Temperatures will average 75 to 85 degrees year round and are kept pleasant by tropical winds coming from the Caribbean waters.