Located in the northeastern part of Costa Rica in the Caribbean Region you will find the Barra del Colorado National Wild Refuge. The refuge covers 350 square miles, and is home to many animals and plants. You can reach the refuge by flying from the Juan Santamaria International Airport, or by boat on one of the many intersecting waterways. The San Juan River runs through the Barra del Colorado Refuge, and both sides of the river have completely different characteristics.
Thick forests cover the Nicaraguan side of the river, while the Costa Rican side is mainly wetland forest and swamps. There are virtually no roads or trails, so what you see is mainly from your boat. Green macaws can be seen flying overhead, and jabiru storks with massive wings are also spotted regularly. On the riverbanks large crocodiles can be seen basking in the sun.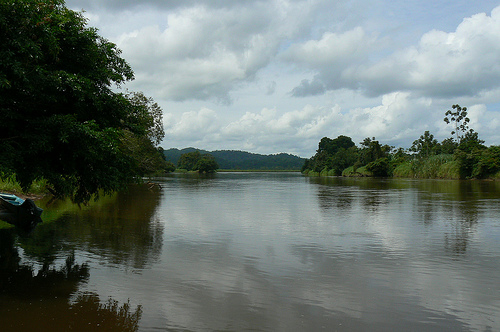 Game fishermen frequent the rivers for the vast amount of fish that can be caught. Tarpon are a local fish that can grow huge, and there are plenty of them. 90 million year old Gar can also be fished out of the river. These fish have long snout-like mouths full of razor sharp teeth – similar to a crocs. The San Juan River has also had bull sharks move in. Why these creatures come from the salty Atlantic Ocean to the fresh waters of the river is unknown.
The weather in the refuge is hot and humid most of the year. From February through April, dry weather makes the refuge a better place to visit and spot the wildlife. Caimans, toucans, jacanas and falcons are just a few of the animals you may see. Monkeys and three-toed sloths can be seen in the trees.
Being as remote as it is, the Barra del Colorado is only near two small towns. Brra del Norte and Barro del Sur. Tourism is not very well supported here, and the fishermen's lodges are really the best place to book your stay. Lodges are available to rent, mostly for fishermen. They are all inclusive, and do include some extra perks as well.
Along the waterways, you will find lush raffia palms. It is here that many of the wildlife make their homes. White-faced capuchin and ocelots can be seen, as well as howler monkeys and mountain lions. Along the beaches, turtle nests are abundant. Both green and leatherback turtles can be seen nesting here.