Los Quetzales National Park was declared a national park in Costa Rica in July 2005, making it the most recent addition to the country's already large national park system. Los Quetzales National Park stretches across 5,000 hectares of land and includes what was formerly known as Los Santos Forest Reserve. The park is also set along the Talamancan mountain range and the Rio Savegre, providing an astounding view for visitors and encompassing some of Costa Rica's most beautiful landscape.
Los Quetzales National Park is composed of three different types of rain forest and fourteen ecosystems, making it home to a diverse flora and fauna. The most popular animal that visitors come to see is the quetzal bird, for which the park is named. The green and the red quetzal are two of the primary types of quetzal bird found in the park, and both are part of a rare tropical species of bird in this region. Other popular birds in this region are the colibri, known for making cone-shaped nests, and the hummingbird.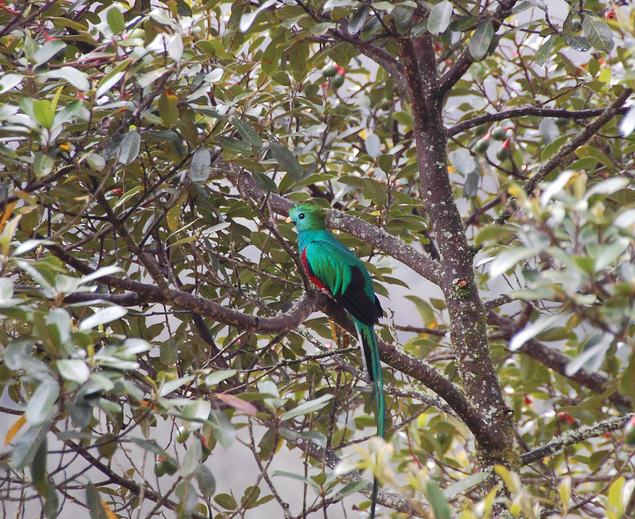 The elevation level of the park changes dramatically depending on the different sections; near the Talamancan mountain range, elevation can reach as high as 3,000 meters. A good portion of the park is composed of cloud forests, lakes, and rivers, although there are oak, cypress, and aguacatillo trees in abundance as well. Since there are so many different ecosystems and types of rain forest found in Los Quetzales National Park, there is a lot of variation when it comes to scenery, flora and fauna, and activities available. Many people enjoy coming to the park to hike, explore the terrain of the region, birdwatch, take photographs, fish, raft, or go for a horseback ride with friends or family.
Los Quetzales National Park is located 47 miles southeast of San Jose and is fairly easy to reach from Manuel Antonio. It can also be reached from Jacó, about a two-hour journey. Although the park is relatively new, several businesses have sprung up around the area to offer lodging, dining, and other activities to help you in your visit to Los Quetzales National Park.