First off you always want to carry your travel documents, medication, jewelry, travelers checks, keys and other valuables in your hand luggage or day bag. These items should never be packed in luggage that you intend to check. Do not include things that you will need within a few hours or the first day arriving at your destination or along your trip. Murphy's Law says that if it can be lost it just might get lost or delayed. Again think about what you need and take it with you in your day bag. You do not want to get to your destination and have to stress out because your medication is in your checked bag that is coming on the next days flight because the luggage missed the connection even though you made it by running through the Miami Airport to make the connecting flight. This has happened many of times and will happen many times in the future. There are also times I know I would not have made the connection if I was dragging my luggage through the terminal trying to make a connection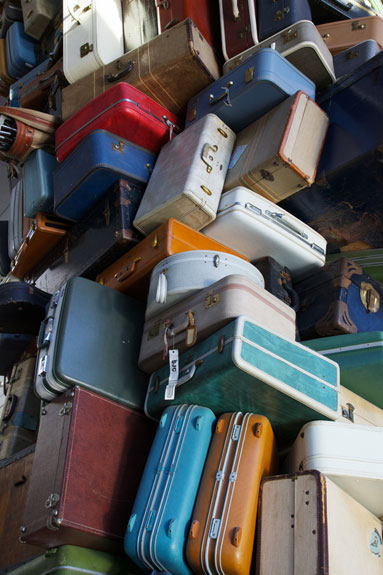 Next where are you going? Are you going Skiing for the weekend? Do you really need that bathing suit? Well yeah, but do you need 4 different bathing suits? No. Are you headed to the Caribbean in the middle of the winter where the temperature is a nice balmy 85 degrees? Do you need that Jacket and 2 sweaters? No. Just take what you need to get from the car to the terminal and leave the rest behind. Check the weather for your destination and pack accordingly.

Think about what you are going to be doing on the trip, choosing basic clothes will help you pack light. If you chose cloths that coordinate with other clothes you can take less. Yes you can wear those pants 2 different days with a different shirt or blouse. Think about what kind of activities you will be doing on your trip, are you going to be on the beach the whole time or are you going to be in an out of museums? How long will you be gone? Are you going to be gone a week, take travel size toiletries or use small plastic bottles. Going longer? Think about getting your things when you get to your destination. Remember all liquids should have room to expand to avoid un wanted leakage. A large size zip lock bag comes in handy. A collapsible bag or now they have zip locks bags made for your clothes come in handy for wet or dirty laundry to separate from your clean clothes. If your clothes can be rolled they will fit into tighter areas.

If you are brining medication, it is a good idea to have a copy of the prescription or at least make sure that your correct name is on the bottle, not your brother's sister name. This will save a lot of headaches going through customs and especially entering foreign countries and trying to explain the medication or drugs you are bringing in.



Are you traveling out of the country? Think about what electronic devices you are taking. Most electric outlets in Europe and South America are set up for 220 volts while here in the states we are set up for 110 volts. Now a days some of the larger items like laptops and cameras are set up for dual voltage systems where as hair dryers and shavers are not. Check the appliance for voltage requirements. I have heard many hairdryers wine like a jet engine before they stop working. You can pick up an inexpensive converter kit that will save a lot of headaches, they will not only convert the electricity but many countries have different plug designs.

If you are one that is still using film for your camera you might want to think about keeping the film in your day bag. The x-rays used on checked baggage is a bit stronger than at the security check points.

You should never take on a trip anything that cannot be lost or stolen, sure we don't want to think about it, but it can happen. Make a list or know what is in your luggage in the event it is lost or stolen and you need to report it.