The region of Veneto can be found in the northeastern Italy, with the northernmost section bordering Switzerland. Until Napoleon's invasion at the end of the 18th century it was an independent republic, and even today has a rich heritage and strong cultural identity. Aside from Rome, it is the most visited region of Italy, thanks to beautiful cities like Venice and Verona which have captures the heart of travelers around the world. Here are a few of the highlights and top cities to visit while in Veneto:

Venice: As the capital of the region, Venice is easily the biggest city and most popular destination as well. Located on the waters of the Grand Canal, the water that flows through the city is perhaps the biggest defining characteristic of Venice. Tour the city the way it was meant to be seen, on a gondola through the canals. Not only romantic, gondolas are lead by gondoliers, who know the history of the city and can give you one of the best tours in Venice. Don't miss out on other sites like St. Mark's Square or Basilica, or the famed Rialto Bridge and Market.

Verona: Coming in behind Venice as the most popular destination in Veneto is Verona, the location of Shakespeare's brilliant play, Romeo and Juliet. Visit Juliet's home, and stand on the balcony from which she proclaimed her love to Romeo. Visitors should also go to the Arena, an incredible Roman amphitheater with over 1,000 years of history. For the ultimate experience, try to find tickets for one of the rare opera performances held within the Arena itself. You'll also find the the 8th century Verona Castle and the stunning 14th century Castelvecchio, a red bricked castle found along the River Aldige and today home to an art museum.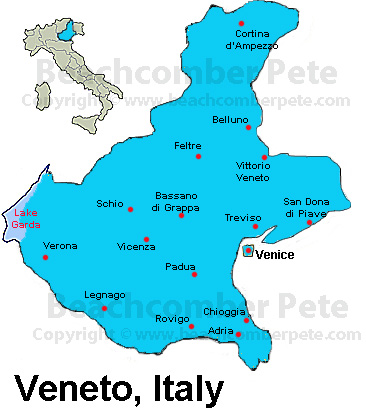 Cortina d'Ampezzo: This city in Veneto may not be as well known abroad, but it is one of the most popular resort destinations in Italy. It is famed for the skiing, but the atmosphere in the small town is also very exciting. Tourists flock to the slopes in the day and enjoy traditional meals and delicious wine at night.
Along with Venice, Verona and Cortina d'Ampezzo, there are countless other beautiful destinations within Veneto. It is one of the most historically and culturally rich regions in Italy, and travelers certainly won't be disappointed with a vacation spent there.
Veneto, Italy By City

Adria

Bassano di Grappa

Belluno

Chioggia

Cortina d'Ampezzo

Feltre

Legnago

Padua

Rovigo

San Dona di Piave

Schio

Vicenza