The Aosta Valley or Valle d'Aosta is the Italian region of the Alpine location of Gran Paradiso, Monte Rosa, and Mont Blanc. The smallest of the Italian regions, Valle d'Aosta is in the northwestern section of Italy. The valley is surrounded by France on the west, Switzerland to the North, and the Piedmont on the west and the south.

Some consider Valle d'Aosta to be the least Italian part of Italy. It is ruled with autonomy from the Italian government. Travelers through the area will find language and cuisine that mirror multi-cultural influence of France, Italy, Germany and the Mediterranean.

Valle d'Aosta has farming and not much industry except for lumber and hydroelectric dams that create electricity to be imported out of the area. Farms are found in the valleys and up the hills. Farther up, the land is used for pasturing animals. Medieval castles and strongholds abound in the country and in all of the valleys that spread across the region. Some of the noteworthy castles are Verres, Challant, and Fenis.

The people of Valle d'Aosta speak a variety of languages. The most common languages are French and Italian. The native people of the valley speak Valdotain that is derived from Arpitan or Franco-Provencal. In another section, a small number speak German, which is spoken across the border in Switzerland.

The climate of Valle d'Aosta is harsher than other areas of the western Alps because the mountains obstruct the milder winds that would blow in from the Atlantic Ocean. The valleys have a humid climate; the mountains have a colder climate. Valle d'Aosta is a haven for outdoor sports people.

In the summer, sports persons can climb and hike in the mountains. Rock climbers will find rock faces bolted for climbing in the area and for all level of climbing.

In the winter, the skiers enjoy the skiing in resorts such as Courmayer. Those in Cervinia can reach the Zermatt ski region and the Valtourneche area.
Sometimes, in the early season, the connection to Zermatt is closed, and Cervina has bad weather.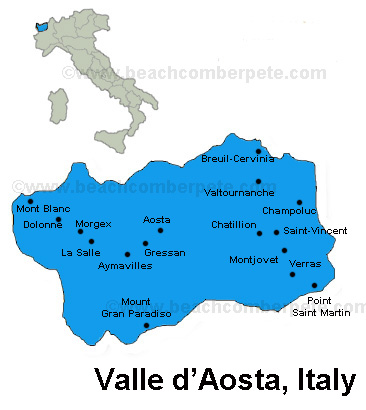 Thermal baths are available year round with visits to Thermes de Pre Sant-Didier in view of Monte Bianco.
The cooking of the area is simple and centers on the hearty elements such as meat, potatoes, polenta, rice, and rye bread. Many of the meals include Fontina that is a cheese of cows milk from the valley. Other local cheeses are Robiola and Toma.
The majority of the wine is red wine. Gamay, which is the local red wine, is cultivated on the vineyards, which are terraced along the valley. It is a light red wine, and since it does not age well, it is best to enjoy is when in the valley.
Valle d'Aosta, Italy By City

Aosta

Aymavilles

Breuil-Cervinia

Champoluc

Chatillon

Dolonne

Gressan

Montjovet

Mont Blanc

Monte Gran Paradisio

Morgex

Point Saint Martin

Saint Vincent

Valtournenche

Verres