Umbria, Italy is located west of Marche, east of Tuscany, and north of Lazio. It is not on the coastline, but it does have some magnificent scenery, including Lake Trasimeno near Tuscany, Rocca Maggoire and the mountains of Spoleto, and its beautiful countryside. There are also numerous activities for you to engage in and tourist attractions to visit. You can visit wineries, take cooking classes from authentic Italian chefs, and tour ancient Etruscan tombs. Many Italians speak English very well, but if you plan on visiting the area, you will probably want to memorize some key Italian phrases and carry a translation book with you just in case. Italy, of course, is one of the worlds largest exporters of fine wines and many of those wines are produced from the vineyards of Umbria. If you enjoy fine cuisine and wine sampling, I suggest visiting Decugnano dei Barbi in Orvieto, Arnaldo Caprai, Paolo Bea, Scacciadiavoli, Chiorri, Aurora, La Distesa, Velenosi, Sartarelli, Moroder, Pievalta, or Falesco. All of these Umbrian vineyards offer the finest Italian foods and the best wines of Italy.You can even learn how to make real Italian dishes and desserts and which wines to pair them with by taking a cooking course while you're in Italy. Many cities in Umbria offer such practical classes for visitors. They will normally take you to the market to buy local ingredients and then teach you how to make a dish or two using those ingredients. They will give you tips on how to make the recipe back home and which wines would taste best with it.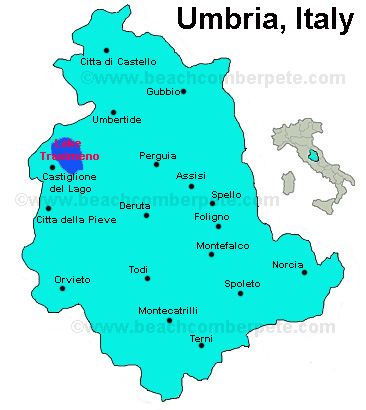 If you enjoy celebrations, you should visit Perugia for the Umbria Jazz Festival or Eurochocolate Festival; Spoleto for the summer Festival of the Two Worlds or the fall Teatro Lirico Sperimentale opera festival
If you enjoy history, you can explore the pre-Roman days of Italy by exploring the many discovered tombs of the Etruscan civilization. You will see artifacts of jewelry and pottery and the artistic wall frescoes they left behind. Orvieto has many tombs you can tour, as well as Perugia.
You can also visit Assisi, original home of Saint Francis of Assisi. You can tour the Basilica di San Francesco while taking in the view of the mountains surrounding the area.
Umbria, Italy By City

Assisi

Castiglione

Citta della Pieve

Citta di Castello

Deruta

Fattoria Spinola

Foligno

Gubbio

Montefalco

Montecastrilli

Norcia

Orvieto

Perugia

Spello

Spoleto

Terni

Todi

Umbertide