Trentino Alto Adige is the Northern Region of Italy. The region is a spectacular collage of snow capped mountains, sparkling waterfalls, beautiful lakes, grassy meadows, luscious forests, popular ski resorts, and medieval towns. South Tyrol and Trentino are the two provinces in the region. Bolzano, Meran and Trento are some of the more well known cities in the region. People come to enjoy the exhilarating skiing or explore the wonders of nature on the Dolomite Mountains.

Trentino Alto Adige has a long history with many interesting historical and cultural attractions. There are over 35 museums in the region. Some of them include:
• The Museo delle Scienze located in Trent. It is a science museum for everyone to enjoy.
• The Museo dell'Aeronautica Gianni Caproni located in Trento. This museum is a display of historical artifacts and airplanes.
• The Museo Catello del Buonconsiglio located in Trento. This is a historical and cultural museum of Trentino.

In addition, there are a handful of ancient ruins that are a must see for those who have a passion for ancient history. They include: the Castel Romano in Pieve di Bono, the Castel Pietra in Tonadico, the Bastione di Riva in Rivadel Garda, the Castel Belfort in Spormaggiore, and the Castello di Segonzano in Segonzano.

Trentino Alto Adige has a breathtaking natural appeal as well. There are three nature parks in the region. The first one is the Parco Nazionale dello Stelvio located in Rabbi. The park is one of the oldest parks and has an enormous variety of plants and animals. There are guided tours available. The second park is the Parco Naturale Adamello Brenta located in Strembo. This nature park is the largest wildlife protected area in Trentino. Lastly, the Paneveggio-Pale di San Martino Nature Park is located in Tonadico. This is an absolutely beautiful park with vibrant green forests and meadows accented with the Dolomite Mountains. Visitors can catch a glimpse of deer that roam through the park.

Trentino Alto Adige is the ideal vacation place for both winter and summer outdoor activities. Visitors can enjoy many outdoor sports and activities including horse back riding, swimming, windsurfing, sailing, paragliding, cycling, golfing, canoeing, ice skating, and of course skiing. The region is a popular winter sport vacation spot with many ski resorts and snow parks available for those who love to have fun in the snow. There are snow parks in every part of the region. Some include: Morea, Ursus, Easy, Monte Bondone, Rolle Railz, and the Belvedere.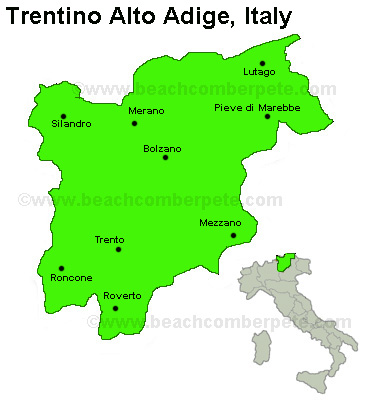 Trentino Alto Adige caters to tourists. Tourists have a large number of restaurants to choose from. There are over 65 restaurants in the region. In addition, tourists have many different types of accommodations to choose from. There are over 1500 accommodations available including hotels, guesthouses, lodges, resorts, and bed and breakfasts.
Trentino Alto Adige has warm, pleasant summers and cold, snow-filled winters. With so much to do it is the ideal place for a fun-filled vacation all year round.
Trentino Alto Adige, Italy By City

Bolzano

Lutago

Merano

Mezzano

Pieve di Marebbe

Roncone

Roverto

Silandro