The weather was warm and breezy. We could see the active volcani islands of Tofua and Kao from our front yard. Kao is the highest island elevation in Tonga climbing to 3,380 feet. Many other small islands were also visible in the distance.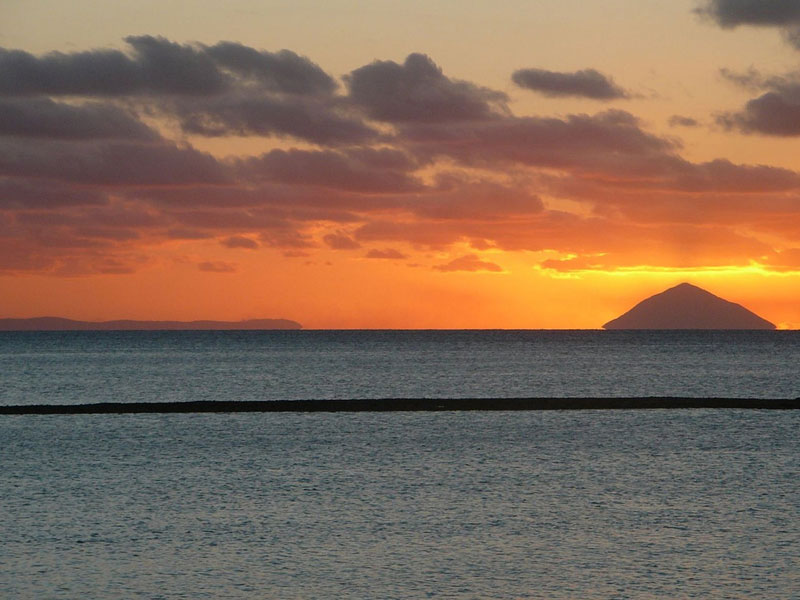 The first day we visited "town" which consisted of not more than eight tiny stores. Since it was the holiday rush, the shops were full. Because Santa hasn't yet discovered Ha'apai on his map, most of the shoppers had their children choose a treat or inexpensive toy to take home with them. I had a sting of homesickness as Christmas tapes played in the shops echoed "I'm Dreaming of a White Christmas" and "Jingle Bells."
We bought a few food items and supplies. Our diet consisted mainly of hard biscuits with butter and jam, Milo, eggs, coconut and Tongan food supplied by generous neighbors. The electricity for the island came on at 6:00 am to 11:00 am and then again from 5:00 to 11:00 p.m. No ice cream was available since the freezers couldn't stay on consistently.
We boiled all of our water, which had to be pumped from a rainwater tank. Our children had a good workout trying to keep us in water for our daily needs. Our adopted daughter, Titaku, my daughter and I got our exercise doing our laundry by hand. We were impressed by the kindness of neighbors who offered pans, dishes, clothespins and such.
Our children became attached to a boy who lived nearby named "Stoney." He ended up going with us on most of our outings, and he was always around to lend a helping hand. He had many pets including goats, dogs, cats and pigs. The children never grew tired of feeding and playing with them.
Our spare time was spent biking around the island, swimming at the beautiful sandy beaches, collecting shells and snoozing. My husband met many old friends and distant relatives, or people who had known his parents and grandparents.
Our first Sunday, we attended a very small ward, and were surprised to find we would be the entire program for Sacrament meeting. One day we visited a graveyard close to our place, which had a statue of John Baker. He had dedicated his life to helping the Ha'apai people. In this particular graveyard there were many tombstones, which is rare of Tonga. Most of the graves were those of people from Europe. I was very surprised to find a marble headstone of a missionar, Althen J. Rasmussen, who was born in Mt. Pleasant, Utah, the same place as myself. He had died in 1923 at the age of 22. There was one more marble tombstone like it, but it was face down, and we couldn't lift it. Isi said it was of another missionary who had died about the same time as the other.
On Christmas night, after a fund day at the beach, we ate at a guest house We met an interesting man from Sweden named Joe. Our Christmas tree was made from an olive tree and decorated with balloons, tinsel, flowers and shells.
Isi asked a friend to his to bring his hoosi and saliote (horse and cart) for us to ride to the liku (cliff) side of the island. We had a great time, and got a feel of what life msut be like for the Ha'apai people. Most of them earn their money collecting old coconuts in these carts and selling them for copra. They are otherwise self sufficient, raising their own crops and animals.
The last dady of our holideay, we hired a truck to take all of us along with our bicycles to the end of the adjacent island. The two islands are joined by a man-made bridge. The beautiful scenery was untouched by concrete buildings, swarming tourists and fortune seekers. We had the best time swimming there since three islands are very close together. The waves created by the currents made for perfect body surfing and shell hunting. We had a long ride back across the island of Foa and halfway across Pangai to our home. Many of the villagers along the way stared at the parade of wet, exhausted foreigners, and shouted their greetings, or an occasional "Palangi" (white person).
Ten days of Ha'apai was just enough, since we had become so accustomed to our modern conveniences of the civilized island of Tongatapu. We missed our wringer washer, treated running water, 24-hour electricity, and our car. So, one last rush to save our lives as we again boarded the Olovaha and bid farewell to an experience we'll not soon forget.
We wish you could have shared this experience with us, but perhaps you caught the vision of our Christmas holiday in the fascinating islands of Ha'apai, Tonga.
Ruth Elayne Kongaika was raised in the mainland, USA, but has been living in the South Pacific for the past forty years. She enjoys trying to capture the beauty of the islands through her photography, painting and writing. She has a blog which shares some of her art and favorite subjects at:
email: kongaikr@byuh.edu