Guest Post By: Linda Hale
Are you a history buff? Do you love to visit places that take you back to another place and time? If so, you need to head on down to the Georgia Renaissance Festival. For 8 weekends out of the year, from mid-April through the first of June, you can experience an authentic piece of medieval life. Located off Interstate 85, just a little south of Atlanta, you can park in a field, walk through a gate, and be totally immersed in another time and culture.
We have been to the Renaissance Festival several times, and each time I am completely blown away by the experience. There are 32+ acres full of authentic 16th century life. Over 1000 fully costumed, period characters are strolling through the fair talking to you, explaining events and life during this period. There's the big, red haired, buxom lady who gives you a big red kiss on the cheek, the peddlers, the sheep herders, the singing minstrels, and even the ugly troll under the bridge. And definitely be prepared to make way for King Henry VIII and his court, as they parade through the town.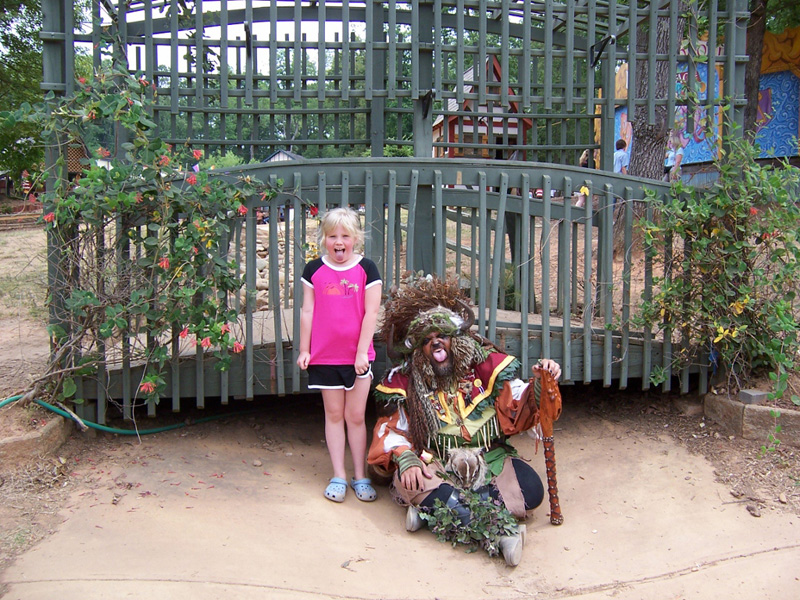 Your children will absolutely love the period games, rides, and side shows that are taking place constantly as you stroll through the fair. There are lots of demonstrations of medieval crafts like weaving, coin minting, and glass-blowing, and even workshops where you can try your hand at some craft. There are plenty of gift shops, if you would like to take home some souvenirs. In fact, one warning. There is an entrance fee to the festival, and then most of the events inside cost extra. So come prepared to spend, or be firm with your "no's" to the kids!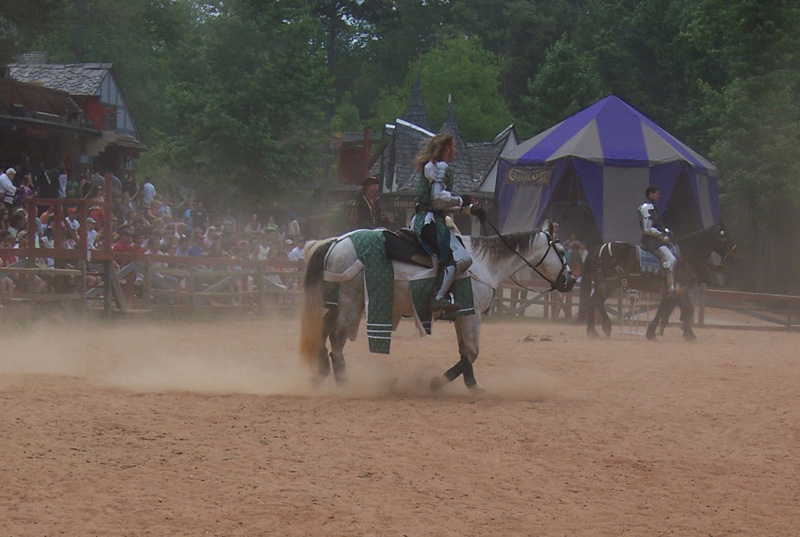 One of my favorite things about the festival is the food. There are tons of pubs and shops with all kinds of goodies and meals. In fact, practically everyone you see is walking around gnawing on a giant turkey leg. This is one of the signature foods served there, but there is so much more! Fried macaroni and cheese, fried green beans, desserts, corn on the cob; you name it, it's there! Get there hungry!
One really nice thing about the period characters roaming around is their knowledge of medieval life. They are happy to stop and talk with you, and answer all sorts of questions. It's not hokey, but really life- like. You are actually in the 16th century while you are there. There is a goose lady who is extremely knowledgeable about geese, and she has several that you can pet and hold. One will even hug your neck (goose style).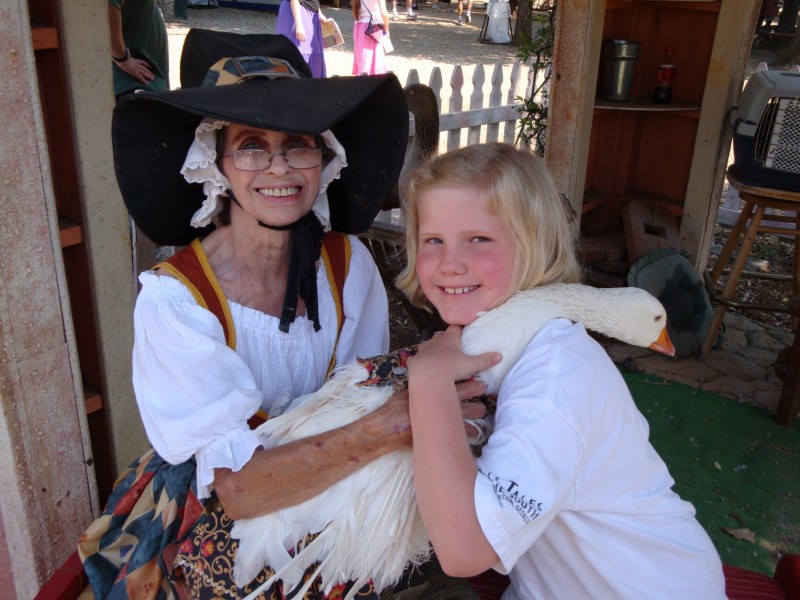 Another caution; wear comfortable shoes! This place is absolutely huge, and you will be walking among trees and roots and rocks. My granddaughter and I separated from my husband for a minute, for him to get a drink, and we roamed around for an hour and a half before we found him again. Also, if you are from a more northern climate, remember that mid-April and May in Georgia can be hot. You will need to dress appropriately, or all that walking will make you really uncomfortable. Just check the weather report before you come!
As I have mentioned, there are all kinds of attractions here, but the highlight is the Jousting. There is an authentic jousting ring, where the knights on their mighty steeds (really gorgeous horses) clash in a very real jousting match. Notice the posted times, and get there early to get a ringside seat. This is great!
Be sure to check out their website at www.garenfest.com before you come, to get dates, times, and special event information. On our last visit they were featuring the Lipizzaner Stallions, so you never know what kind of treats they may have in store for you.
Guest Post By: Linda Hale