Guest Post by: Bridget Staroscik O'Reilly
On the afternoon of my first day in Athens, we visited the Acropolis. Up there above the city, the warm wind whips around you and Athens is laid at your feet like a present from the ancients. On the ruins themselves a park employee sat eating her lunch; staring into space with a bored expression. For a moment I tried to imagine I had her life: one so filled with excitement that sitting on the ruins of the Acropolis bored me, but I couldn't imagine it.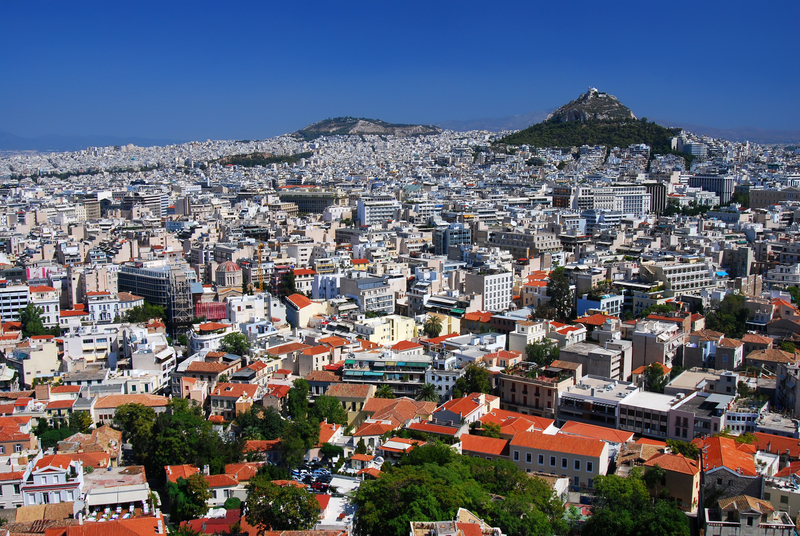 I had been blown away by Athens since the wild taxi ride that gave me my first glimpse of the city around 4a.m. that morning. Red lights had no meaning to our driver. Red, Yellow, Green, no matter… He would just lay on the horn and the gas simultaneously and keep on going.
This is a different airport experience than someone headed to Athens today would likely have since my first trip to Athens was before the most recent Olympics, so their clean and shiny new airport and simple public transportation system was in the future. Instead our plane arrived on the dark deserted tarmac and had a set of stairs rolled up to us, just like in some movie from the fifties.
When we did enter the airport itself, it was completely empty except for the passengers of our flight. No restaurant was open; no postcard shop. I was definitely starting to get a bit nervous that we may have to stay there until morning when I saw the line of cars painted taxi yellow through the Baggage Claim doors.
We went out to the 1st car in the line and told him the name of our hotel but not much else and like taxi drivers everywhere he assured us he knew exactly where we were going- then! It wasn't until we started hurtling down streets like one of us was in labor and the hospital was on the other side of town, that he mentioned he actually hadn't heard of the place, but at that point wouldn't stop to let us get the paperwork out of our luggage.
Still in a short time we and way too much luggage showed up at our hotel. After a brief argument with the desk clerk we were able to convince him that we were willing to pay for the whole night even though we arrived at 4:45am. It took a few trips in the tiny elevator to get us and all our bags upstairs to a room that looked nothing like the pictures online had.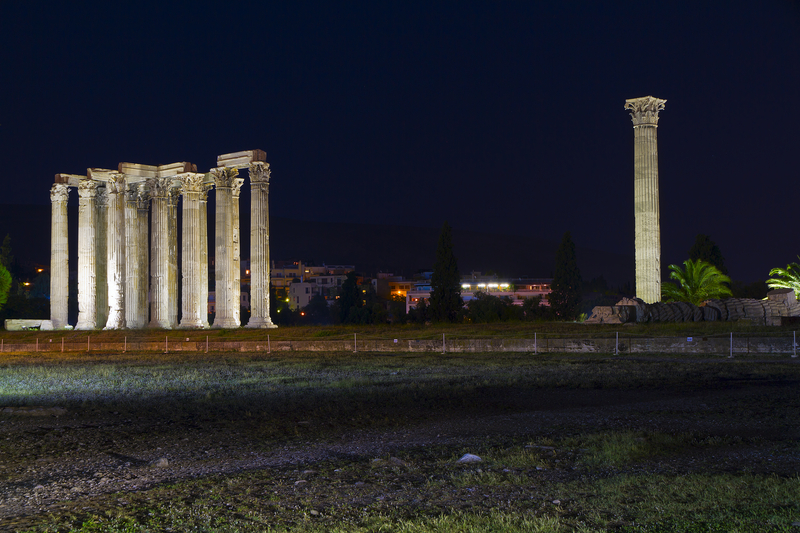 I knew I was near a panic. I had been traveling for at 38 hours and I was in a hotel in a country I knew nothing about, as far away from the world I knew as I had ever been. I walked across the room, opened the bamboo doors and stepped out onto the balcony. The view took my breath away. There in front of me lit only by moonlight was the Temple of Zeus. All the panic slid away and I felt a sense of peace, I had arrived. I took a few moments every night to examine that view no matter how late I came in and it always gave me that same sense of wonder. And this was only minor ruins. So how I could I ever be bored by the Acropolis?
Guest Post by: Bridget Staroscik O'Reilly