If you are thinking of taking a day trip during your stay in Florence Italy, consider heading out to the small city of Viareggio, along the coast of the Ligurian Sea. Just 20 km north of Pisa and about 100 km east of Florence, Viareggio is easily accessible by car or train. Trains run virtually every hour from Florence and takes less than 2 hours. Fare on the train is affordable at less than 15 Euros round trip. Once you arrive at the Viareggio station, you are just 1 km away from the beach. If you are renting a car, the trip takes just over an hour.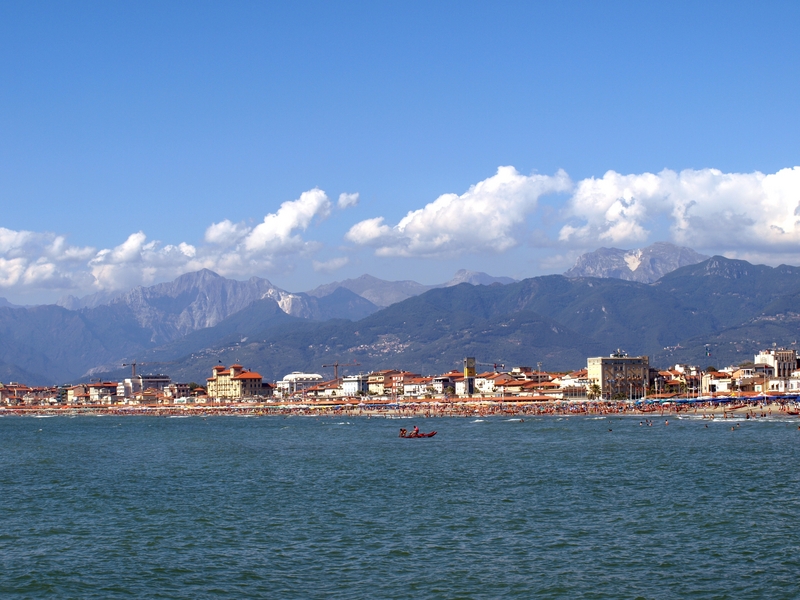 Viareggio is known to have the best beach in the Tuscan Riviera and is a favorite amongst many Italians looking for an alternative to other, more expensive Italian beaches. The drawback to the beaches at Viareggio is that they are mostly private and in order to use the beaches, one must pay a small fee of about 7 Euro to enter. You can also walk to the nearby pier and get a panoramic view of the coastline and the city.
There are plenty of other interesting things to do in Viareggio and if you happen to be in Florence during Carnival season, then you definitely have to take in the Carnival of Viareggio. Held in late February and early March, the three week long Carnival of Viareggio is one of Italy's most famous carnivals. Colorful, flower-laden floats adorn the coastal street of Viareggio in a festival that spans over 125 years. These floats are very similar to the grandeur of the floats during Mardi Gras season in the American City of New Orleans, LA.
If you aren't in Viareggio during Carnival season, you might want to visit the Museo Cittadella del Carnevale, where you will find interesting treasures from previous carnivals. The other important museum in Viareggio is the Museo Villa Puccini, in honor of one of Italy's most famous composers, Giacomo Puccini. You are undoubtedly familiar with many of his famous operas such as La bohème, Tosca and Madama Butterfly. Puccini lived at one time at Torre Del Lago, just 10 km south of the center of Viareggio and was born in Lucca, just 30 km east of the city. Puccini is buried at a small chapel built in his memory. During the summer months there are music festivals such as the Festival Puccini in Torre Del Lago and the Cittadella Jazz and More Festival
There is also a wide array of interesting restaurants if you are looking for places to dine, many of which are along one of Viareggio's main streets, the Viale Daniele Manin. Two of the most popular restaurants in Viareggio are Ristorante Fubi's and Ristorante Romano.
With so many interesting things to see in Viareggio, you can easily understand why it's worth to take a day trip over to the coastal city. It certain that you will bring home a number of memories from beautiful Viareggio.