Saint Kitts and Nevis, the twin island nation located in the Eastern

Caribbean

was first discovered by Christopher Columbus in 1493. On seeing the cloud covered mountain of Mt. Nevis which is the highest point of Nevis at 3232 feet, Columbus named the island after the Pyrenees, Nieves, which translates to "snows". The highest point on Saint Kitts is Mt. Misery at 3793 feet. Both of these volcanic islands offer the traveler a wide range of the Caribbean experience. A 3 hour flight out of

Miami

or 4 hour flight from New York will bring you to lush rainforest and sugarcane fields. One will also find beautiful sandy beaches on the protected

Caribbean

side while on the Atlantic side of the islands volcanic rock formations with steep cliffs and blowholes fall into the rough waters of the Atlantic
.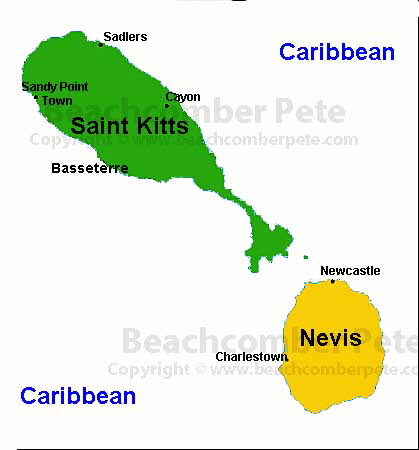 Traveling the Caribbean during the early part of the 17th century, French and British explorers used St. Kitts as a base in the exploration of the Caribbean Islands. After a bloody battle in 1783, the British were able to take control of St. Kitts and Nevis from the French. St. Kitts and Nevis gained their independence from the British in 1986. The capital of the 2 islands is Basseterre and is located on the island of St. Kitts at 17º 20 N, 62º 45 W.
The islands in true Caribbean tradition are very laid back and relaxing. Development has not found the islands and much of the lodging one will find is small inns or plantation houses that are run by expatriates' from America or Britain.
Until the 1970's the economy of the islands were based on sugar, today tourism makes up the majority of the economy of Saint Kitts and Nevis.
Tourist visiting St. Kitts and Nevis tend to be divers looking for the perfect dive spot, eco tourists hiking the many trails thru the beaches and rain forest abundant with green vervet monkeys, or sun worshipers looking for that isolated beach.
Climate: Average temperature is 79 degrees all year with the days reaching almost 90 degrees and then dropping to around 70 in the evening. The St Kitts and Nevis islands see an annual rainfall of around 55 inches. Divers will find little variation in water temperature. Hurricane season that runs from June to October can have an effect on the local weather.
Population: St. Kitts has a population of around 35,000 and Nevis in the neighborhood of 10,000
Languages: English is the official language
Currency: Official currency is the East Caribbean Dollar
Airports: Basseterre's Robert L. Bradshaw International Airport (SKB) located on St.Kitts
Ports: Basseterre