Nicaragua, or the Republic of Nicaragua is said to be one of the safest countries in Latin America, located on the Isthmus of Central America, Nicaragua is bordered on the North by Honduras and to the South by Costa Rica. To the west you will find the Pacific Ocean and to the east is the Caribbean Sea. Nicaragua lies in the Northern and Western Hemispheres with the Capital of Managua being at 12° 09'N, 86° 17 W.
The civil war has been over for almost 20 years, yet the travelers are just starting to discover the laid back beach towns, old world cities, unbelievable volcano backdrops and some of the best tropical rain forest. Fire and water, the land that time has forgotten. Traveling to Nicaragua is like going back a hundred years, yes Nicaragua has the all convenience of the modern world, yet the country is still a laid back, with easy going people proud of their history. Tourists trapping are still hard to be found as one can still enjoy the beauty of the country.
Nicaragua is divided into three main geographical areas, the Atlantic Lowlands, Central highlands and the Pacific lowlands and lake areas.
Atlantic lowlands is quite different from the rest of the country, the climate is very tropical with a high concentration of rain resulting in a humid and hot environment. This very tropical region is made up of large rainforests and several large rivers running through out the region. The river Rio Coco, which makes the border with Honduras, is the largest in Nicaragua as well as Central America.
Central highlands are quite different from the Pacific lowlands and the Atlantic lowlands. The area is rugged terrain with mountains and deep valleys. The region has a much cooler climate than the Pacific and Atlantic lowlands. The mountains climb to a height of 7999 ft (2438 meters), with the highest being Mogoton.
Most of Nicaragua's agriculture is grown in the region with coffee be being the predominate crop.
Pacific Lowlands have two large freshwater lakes, Lake Managua and Lake Nicaragua. Lake Nicaragua is the largest freshwater lake in Central America. Lake Nicaragua is home to the world's only freshwater sharks as well as the Island of Ometepe and its two volcanoes Madras and the active Conception. The Pacific Lowlands extend from the Gulf of Fonseca in the north to the boarder of Costa Rica in the south. The sandy beaches are bordered by Marribos Mountain range with its many volcanoes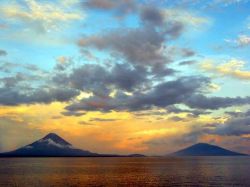 More than half of Nicaragua's population lives in this region with the largest city being Managua, the capital city having a population of over 1 million people. With just over 5 and half million people, Nicaragua is the least populated country in all of Central America.

Nicaragua, first discovered by Christopher Columbus is 1502 as he sailed along Central America. The towns of Granada on Lake Nicaragua and Leon to the east of Lake Managua were first settled in 1524 making them the oldest towns in the Americas settled by the Europeans. Today the population of Nicaragua is 69% Metizo, 17 % white and 9 % black. The remaining 5 % of the population, Amerindians, have cultural ties going back to the Mayans.

Climate in Nicaragua varies from and average low in the 70's in the mountain areas to an

average of 82 degrees across the country.

The Country receives and annual rainfall of Nearly 200 inches a year, with the largest concentration being along the

Caribbean

coastline and inland and towards the Pacific being much drier. The year is usually described as 2 seasons, the wet season running from May till October and the dry season running from December till the end of April.

Languages are mainly Spanish (97%) English and Indigenous

Currency of Nicaragua is the Gold Cordoba

Airports: Managua, Agusto C. Sandino International Airport (MGA)

Ports: Corinto, El Bluff, El Rama, Puerto Cabezas, Puerto Sandino, San Juan Del Sur