One of the first things you should remember when packing for a trip is you usually bring more than you will ever need, and that what you bring you are going to have to carry.

So with that said lets start with the Luggage, the luggage should be light, sized for the trip, easy to carry yet strong enough to handle rough treatment. This is true if you are Backpacking or going on a Business trip. I have found that if you are doing a lot of traveling that will require trips through airports, train stations or even bus stations that if the luggage has wheels you will be much happier and less frustrated at the end of the day than if you had to carry everything.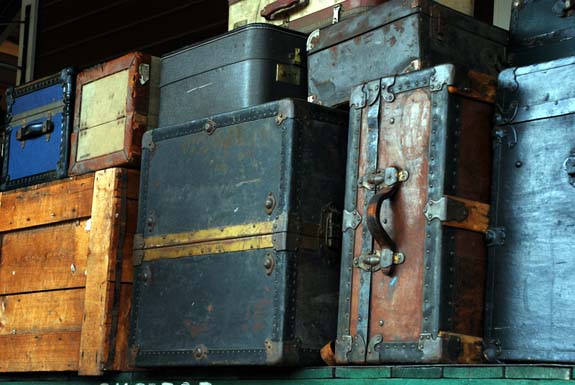 I have found that it is more convenient to take the luggage with you as carry on if you are traveling on a short trip such as a quick business trip or a quick weekend getaway to your favorite Island. Some of the draw backs with taking your luggage as carry on is having to go through the security at the airport. You are limited on the size and quantity of toiletry items you can bring (see Home Land Security). The next thing you want to think about is the airplane, everyone and their brother is thinking like you and brining their luggage on as carry on so they will not have lost luggage or long waits at baggage claim. This is ok as long as you are not in Group 6 and the last to board the airplane and now you are trying to find a spot for your roller board suitcase. Again if you are traveling light this is not a problem. Another thing to think about is how many stops you make along your trip to your destination, every plane you load or train you transfer to you will be looking for luggage space.

Now I have found that if you are going on a week long adventure trip or cruise where your luggage will not fit into one suitcase or you will be making several stops to your favorite Island in the Caribbean, you might want to think about checking your luggage as checked baggage. You will not have to worry about the amount and size of your toiletry items, your luggage can be a little bigger, this will come in handy if you plan on brining a lot of souvenirs back from your trip or adventure. Those 3 bottles of your favorite Caribbean rum you think you want to share with friends. Or that nice bottle of French wine you found in the South of France. You will not have to go through the hassle of security; just have to worry about what is on your body or in your day bag. Not having to worrying about keeping an eye on your luggage at all times while you wait in the terminals. Then finding a place on the plane or train to store your luggage. If you find that you are going to check your luggage you do not want to lock it, today the Homeland Security has the right to open your luggage, and guess what if you are not around they are not going to wait to find you so you can unlock it, they will just cut the lock. I have seen and traveled many of times when the x-ray machine for checked baggage is so backed up that they put your luggage into a waiting area till it can be scanned, unless you are going to wait to watch it be scanned do not bother locking it. On that note don't load your suitcase with valuables. That's what your day bag is for.

At your destination, if you will be going through customs you will still have to wait in the same line if you have checked baggage or carry on luggage. You might have to wait a little longer for your luggage to come out of baggage claim, but to me it is worth the wait to just waltz through the airport with a book in hand and not have to worry about watching your luggage or finding a place to store it. Again you are going on vacation; you want to make your trip as less stressful as possible.