Le Marche is in Italy. In fact, it is one of the twenty regions of Italy, and in English is commonly known as Le Marches. The region of Le Marche borders along the territory of Emillia Romagna. It is a vast, hilly country. The eastern border of the region is formed by the Adriatic Sea. Because of the mountainous geography of the region, there are also mountains, particularly the chain of small mountains that trail along the coast, the Appenine. Monte Vetorre is Le Marcheā€™s tallest mountain peak, but none of the other peaks in the region exceed 2,000 meters. There are many deep gullies, rivers and valleys tucked away inside the region of Le Marche, as well as alluvial plains and hidden villages and Renaissance towns. The chains of mountains that are located here contain deep river gorges, the three most well known of these being the Rossa, Frassasi, and the Furlo. The hills of Monte Conero near Ancona are famous in Italy, and many tourists stop to take pictures of the breathtaking landscaping that they create. In ancient times, Le Marche was known as Picenum Territory. It was briefly occupied by a tribe of Gauls, before it was conquered by the Romans later on, at which point it became permanent Roman territory. However, the Roman Empire was to fall, and at this point Le Marche was invaded by Goths. It was for a time a part of the Byzantine Empire, and during the Eighth century it was conquered by Charlemagne. It was a part of the Papal States and it came be a Renaissance town later on. Over the years it exchanged hands with powerful rulers before it came to be the small tourist destination that it is today.

30 years ago, Le Marche was considered a poor farming town, but due to exposure and economic growth brought on by the tourist market, it has substantially risen in the world. The region today is divided into five regions and presided over by a small, local government.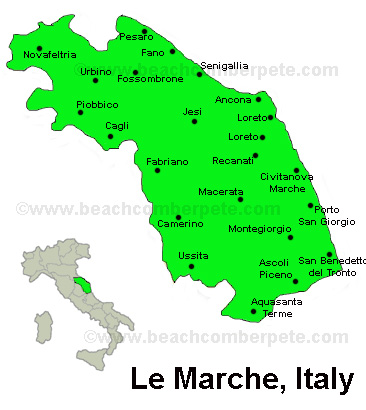 When it comes to enjoying the beauty of Le Marche, there is plenty to see and do for the average tourist. For the water and sun-loving tourist, there is over 180 kilometers of coastline on the Adriatic Sea. There is also the Rossini Opera Festival, Fano Jazz by the Sea, Annual Opera Season, International Piano Competition, and the International Theater Competition. Because of the foreign invaders that Le Marche constantly dealt with during the early centuries A.D., it was not until the 11th and 12th centuries that they began to take the time to erect buildings. There are many testaments to Roman and Medieval, Gothic architecture in the city to view. There are also local tours that will take you along the coastline, through farms, across wine vineyards and onto the beautiful beaches along the Adriatic.
Le Marche, Italy By City

Ancona

Aquasanta Terme

Ascoli Piceno

Cagli

Camerino

Civitanova

Fano

Fossombrone

Jesi

Loreto

Macerata

Novafeltria

Numana

Pesaro

Piobbico

Porto San Giorgio

Recanati

San Bendetto del Tronto

Senigallia

Urbino

Ussita