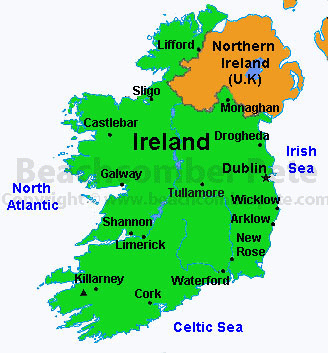 Ireland is the third largest island in Europe with traditions, dance, culture, and language that have taken thousands of years to develop. Now, with a population of more than 4 million, Ireland is thriving as a tourist destination rich with history.

Ireland has been inhabited since 6000BC. Great tragedy struck Ireland in the 19th century with the Great Famine resulting from a potato blight that struck crops and killed many residents. Modern Ireland in the 21st century is now vibrant with increasing immigration and youthful population.

Make your trip to Ireland complete by visiting both of its capital cities: Dublin and Belfast. You won't need to worry about packing snow shoes for your visit to Ireland. While it may rain frequently, it rarely snows. And don't forget to look for the spectacular rainbows if you do happen to be out when it showers!

If you are in the mood to shop, Grafton Street in Dublin is the place to go. You will find everything from upscale boutiques, department stores, as well as street vendors. Known for amazing crystal, visit County Waterford to see the world-famous Waterford crystal and Cavan crystal.



If you are looking to see the more natural sights in Ireland, put on your hiking shoes and trek the Mountains of Mourne or take a side trip to Rathlin Island, also located in

Northern Ireland

. Golfers will have more than 360 courses throughout the country to choose from and, don't worry about canceling your game if it rains, links can be played in all types of weather.

Explore historic Ireland with a trip to the Irish castles including Blarney Castle and Dublin Castle located in the capital city. While in Dublin, also visit St. Patrick's Cathedral where services are held every day of the year. Before you leave Dublin, stop by the famous Guinness Brewery. Founded in 1759 this brewery takes up approximately 60 acres and includes a brewery museum and steakhouse.

If you are visiting Ireland on St. Patrick's Day or any day of the year, you can immerse yourself in Irish culture. Experience the traditional music, Irish dancing, festivals and street fairs that make Ireland a phenomenal tourist destination.