Honduras is located in

Central America

, bordering the

Caribbean Sea

, between the countries of

Guatemala

and

Nicaragua

and bordering the Gulf of Fonseca (North Pacific Ocean), between

El Salvador

and

Nicaragua

. Honduras is the second-largest country in Central America. The coordinates for Honduras are 14º 06 N, 87º 13 W.
Tegucigalpa is the largest city as well as the capital of Honduras.With over 1.25 million people Tegucigalpa is the 4th largest city in Central America.
Geographic Regions: Honduras is slightly larger then the state of Tennessee and is divided into four geographic regions.
The first region is the Eastern Caribbean Lowlands (including the northern part of the Mosquito Coast, called La Mosquitia) and mountain slopes which embrace about one-fifth of the total land area of Honduras. Hot and humid, this area is densely forested in the interior highlands.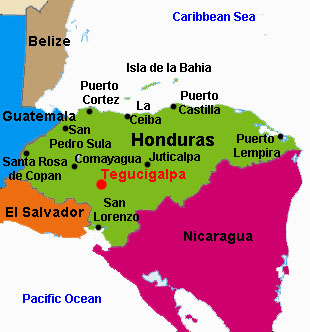 The second region is the Northern Coastal and Alluvial Plains and Coastal Sierras which make up about one-eighth of the land area and contain about one-fourth of the population. The nation's railroads are confined to this northern area, which has four of the five important ports of entry.

The third region is the Central Highlands which take up two-thirds of the national territory and contain the vast majority of the population. The mountains are rugged, rising in the west to 9,347 feet (2,849 metres) at Mount Las Minas, the highest point in the country. The numerous flat-floored valleys lie between 2,000 and 4,000 feet (600 to 1,200 meters) in elevation.

The fourth region is the Pacific Lowlands, centered on the Gulf of Fonseca, and the adjacent lower mountain slopes are only a small part of the land area and contain an equally small part of the population.

Honduras has numerous cays and islands in the Caribbean Sea, including Isla de la Bahia (Bay Islands), the tiny Cayos Cocinos (Hog Islands), and the remote Swan Islands. A few long-dormant volcanic islands stand in the Gulf of Fonseca, including Tigre and Zacate.

The weather in Honduras is certainly tropical, but moderates in the higher elevations of the interior. In the interior regions the temperatures average near 70° F, (21° C) throughout the year, while in the much warmer, and certainly more humid coastal regions, temperatures average near 80° F. Rainfall is generally heaviest in the east and northeast, and along parts of the northern coast. A dry season occurs in the central highlands and along the mountain slopes facing the Pacific, (November - May).

Population: Honduras has an approximate population of 7,810,763 (2009).

Languages: Spanish (official), Amerindian dialects

Currency: Lempira

Lempira banknotes come in denominations of: L1, L2, L5, L10, L20, L50, L100 and L500.

The Lempira is subdivided into 100 centavos. Denominations are: 10, 20 and 50 centavos.

Airports: Ramón Villeda Morales International Airport at San Pedro Sula is the largest airfield.

Ports and Terminals: Puerto Castilla, Puerto Cortes, San Lorenzo, Tela