Guatemala is located in

Central America

, bordering the North Pacific Ocean to the west, and is situated between

El Salvador

to the south and

Mexico

to the north. To the east is the Gulf of Honduras (

Caribbean Sea

) sandwiched between

Honduras

and

Belize

. The coordinates for Guatemala are 15░ 30 N, 90░ 15 W.
The Capital of Guatemala is Guatemala City, sitting in the mountains at 5256 feet the capital has a population of 3.2 million people, almost 25% of the countries 13 million plus population
Geographic Regions: Guatemala is slightly smaller than the state of Tennessee and is divided into three geographic regions.
The first region is the Highlands with the heaviest population. The Highlands are a chain of mountains extending across Guatemala in an east-west direction. They are highest in the west. There, Volcan Tajumulco-the highest mountain in Central America-rises 13,845 feet (4,220 meters) above sea level. The region has many volcanoes, some of which are active. Earthquakes sometimes occur in the Highlands. Guatemala's longest river, the 250-mile (402-kilometer) Motagua, rises in the Highlands and flows to the Caribbean Sea.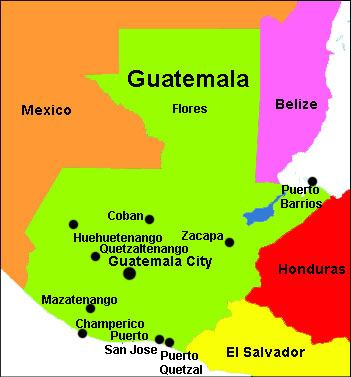 The second region is the tropical area along the Pacific Lowlands which are located south of the mountains.
The third region is the tropical jungle in the Northern Lowlands known as the PetÚn region which is located north of the mountains.

The weather in Guatemala is tropical and hot. The lowlands tend to be humid while the highlands are a little cooler. The rainy season in Guatemala generally lasts from May to November, and daily showers fall during most of this time.

The Pacific coast swelters year-round, with temperatures often hovering around 38░C (100░F). The seemingly constant high humidity diminishes a little in the dry season which is from November to April. Depending on the altitude, the highlands are pleasantly warm during the day but can be freezing at night. During the rainy season which is from May to October, the mountain areas tend to be damp and chilly, but dry and warm during the dry season. The climate in the lowland jungles of El PetÚn varies only from hot and humid to sweltering and dry. In the rainy season, the mud can make roads and walking tracks very sticky.

Languages: Spanish 60%, Amerindian languages 40% (23 officially recognized Amerindian languages, including Quiche, Cakchiquel, Kekchi, Mam, Garifuna, and Xinca)

Currency: Quetzal

The local currency is the Quetzal which is named after the national bird, which has ancient and mythic connotations even still. US dollars are widely accepted and can be exchanged in most small towns. ATMs can be found in the major towns but do not expect to find them in every tourist spot. It is fairly easy to find your self in a town without an ATM or a place to change money.

Do not expect to be able to easily exchange traveler's checks to Guatemala. You might find a few places willing to accept checks issued by American Express but all other types are universally turned down. Amazingly even major banks in Guatemala City do not accept VISA traveler's checks.

Airports: Guatemala's main airport is La Aurora International Airport (GUA/MGGT) and is located near Guatemala City. Guatemala's secondary airport is situated in Flores, PetÚn.

Ports: Puerto Quetzal and Santo Tomas de Castilla